The new
Ofiyaa Tri-Screen
can turn your laptop into a stunning triple-display experience to send your productivity through the roof.
You might think of a multi-monitor set up as something that you have at the office, but you don't have to be trapped at your desk to enjoy this productivity booster. You can set up a dual or triple monitor arrangement at home, or even take it with you on the go.
Triple/Dual Monitor Capabilities
You will love the fact that you just need to plug-and-play with this product, whereas your laptop is given the ability to have multiple screens. You will save a lot of time that is normally lost when scrolling through tabs as you work on your projects. You have the option of having a triple screen experience or a dual-screen experience.
Rotation
With this laptop monitor accessory, you have the freedom of selecting the best viewing angle depending on what you are doing. You can achieve 202 degrees rotation, and 180 degrees when using the three monitors from
Ofiyaa
as they can fold to form a triangle that is convenient when carrying out a presentation.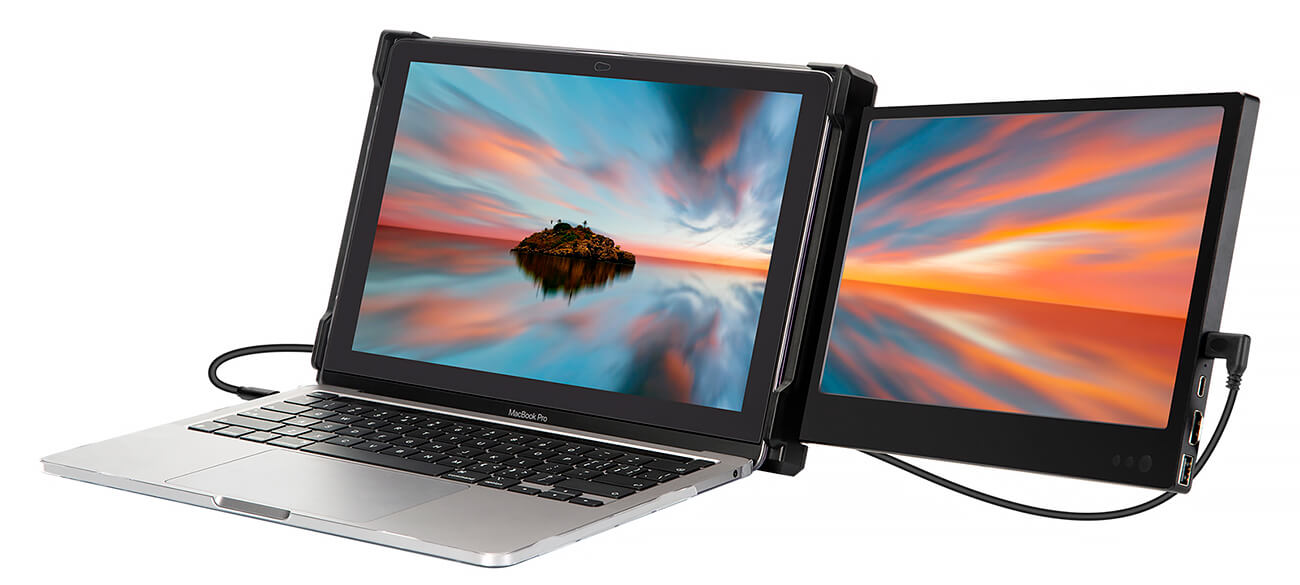 Lightweight and Compact
You do not have to worry about carrying this product around as its compact build makes it easy to carry it in your regular backpack. To be frank, the lighter your laptop is, the better. So, if your laptop is already chunky, it might be difficult to carry the monitor along with your device. But if you own a 2 in 1 or any other lightweight laptop then you will love the convenience of the Ofiyaa Tri-Screen.
With 2.93 pounds weight and 315*215*39mm size.
Ofiyaa
has a similar weight and size as the MacBook Air.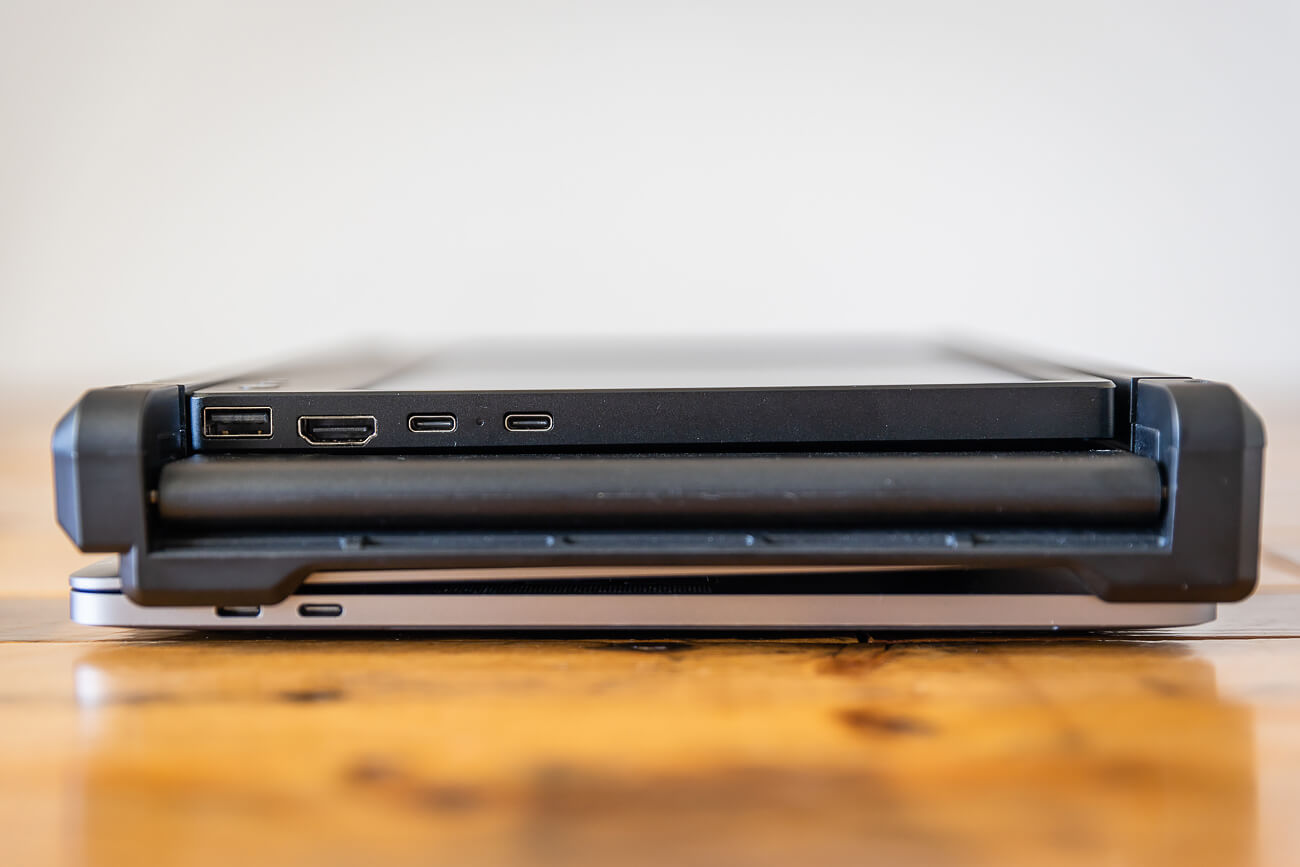 HD Displays
Ofiyaa
fits 13-17 inches laptops. What's better is that the two screens can adjust parameters separately. Ofiyaa carries two 11.6 inches 16:9 FHD high-definition displays with a resolution of 1080P/60Hz (1920*1080P).
Consuming media, editing, or multitasking in your photography workflow is very convenient and efficient with this solution.
Mobile Phone Projector
Ofiyaa can not only connect to a computer but also a mobile phone through a Type-C cable. After the connection is made, the content displayed by the mobile phone can be projected on the screen, or the mobile phone can be used as a microcomputer to operate on the screen as a computer. Currently, this function supports Huawei EMUI and Samsung DEX.
Ports
On each side you have the following:
x2 USB-C
X1 USB-A
x1 HDMI
Attaching to the laptop
It is very easy to start using the Ofiyaa as it has a clamp system, meaning that you don't have to attach any extra plates to your laptop that could leave undesirable marks eventually.
The process is smooth and very straightforward. After clamping the monitors to your laptop, it is needed to connect a cable from both sides. It is recommended to use a USB-C that offers power and video capabilities to maintain a minimalistic and clean setup. You don't need to run or install any driver.
Adjustable parameters
The parameters of each screen can be adjusted separately. 30 variants can be controlled, such as brightness, color, scene mode, DCR (Dynamic Contrast), Sharpness, HUE, saturation, backlight, color temp, wide dynamic mode, volume, etc.
Energy Saving
Ofiyaa
has an Energy Star Rating level, so it will consume very little power on your laptop. A single-screen power is 5 W, which makes sure you can have a longer use time even powered by your laptop.
Durability
Ofiyaa claims that monitors have passed 10,000+ times of repeated folding fatigue tests and can be used for at least 5 years or longer.
Operating Systems:
macOS
Windows
Android
Chrome
Linux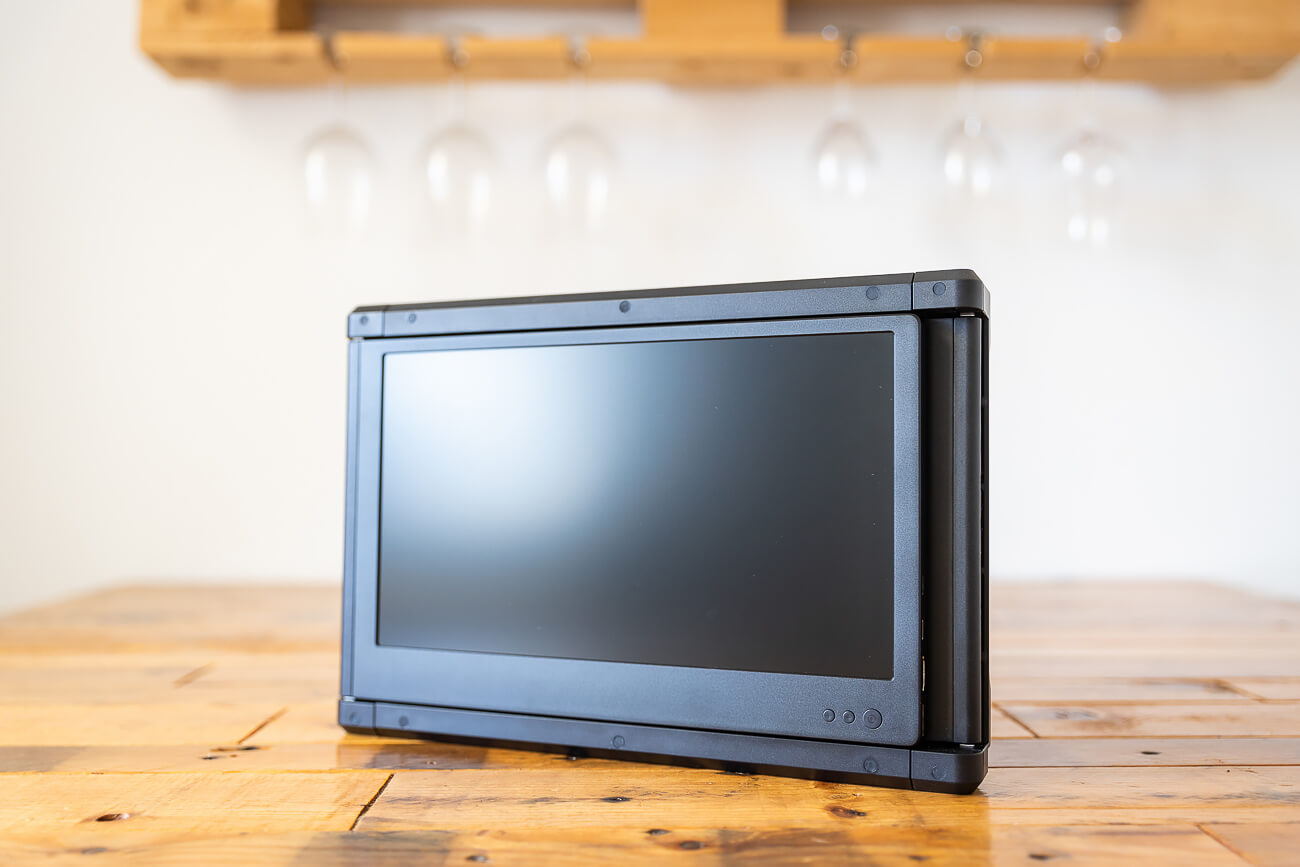 Pros & Cons
For:
Multiple port setup, convenient for modern laptops
Triple or dual monitor options
Presentation mode
Through the monitors, you can even charge your laptop from any of both sides
Against:
When folded, the screen is exposed, so you must be extra careful to avoid scratches or fingerprints
No touch screens
The speakers are mediocre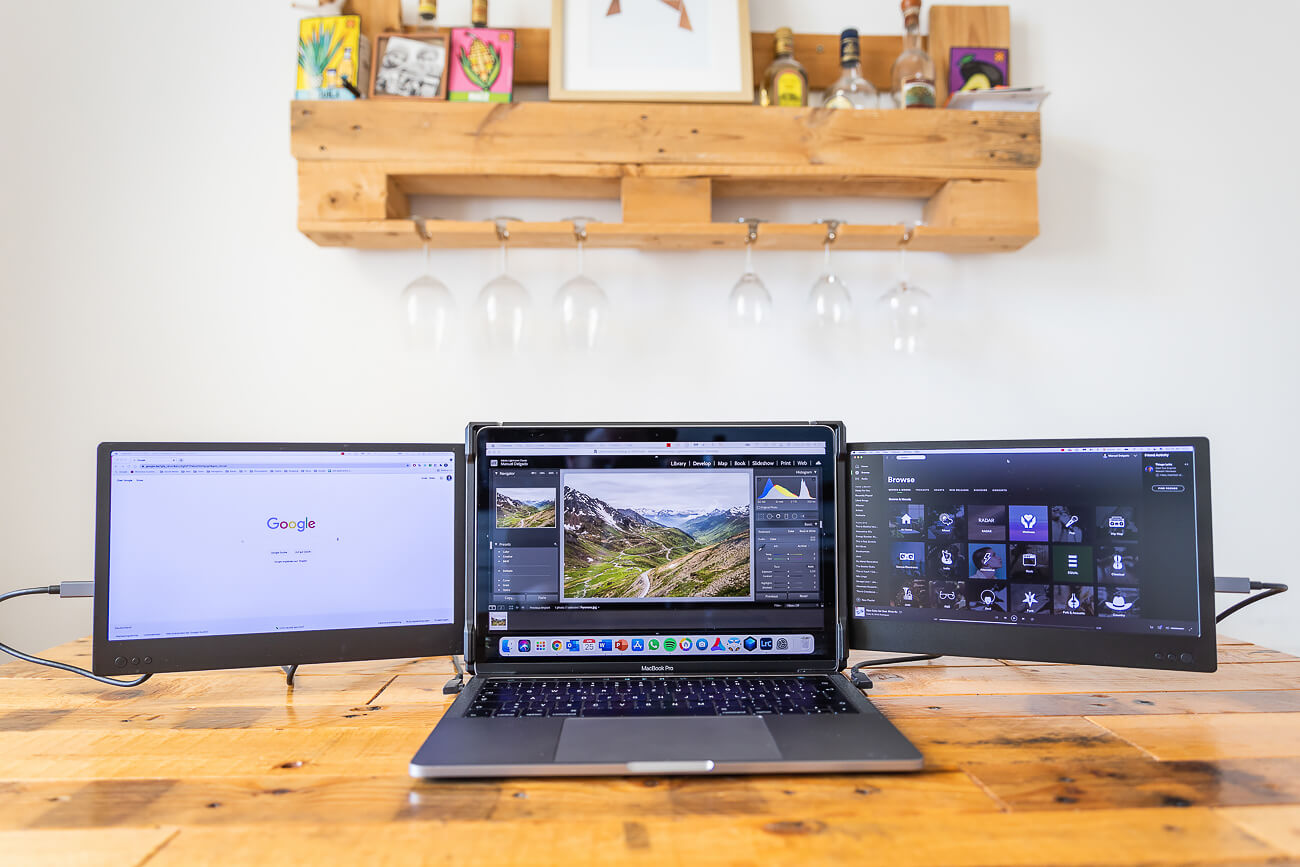 Verdict
With so many options available in the market, the Ofiyaa stands out from their competitors by offering a solution that clamps easily to your monitors and even offers the possibility to charge your laptop from any of both sides through the screens.
The image quality is good and enough to make your workflow more efficient. A better version would be if they were 4K and touch screen.
In the package there are several cables included connecting to diverse ports. However, the best solution is if your laptop has two USB-C ports with power and video capabilities to maintain the setup minimalistic.
The best thing from Ofiyaa's proposal is offering the possibility to have a mobile multi-screen setup anywhere. In times of COVID, this is a great solution for doing home office, or if you would want to have a setup like your studio at any place due to its lightweight and small size.
Boosting productivity is no easy task. We're inundated with calls, e-mails, and now, Slack or Zoom messages. But a three-monitor setup can go a long way in changing that and helping your workflow to be more efficient and for that,
Ofiyaa
might be a great alternative to consider.