Godox
started out making major waves in the still photo space but recently has started moving aggressively on the motion picture continuous lighting territory. Their next step in that direction is the TL60 RGB Tube Light. It's a continuous lighting source that can be used for white or colored lighting for either video or still photography.
Capabilities
Learn on YouTube
Body
One TL60 unit is about 750mm long and weighs just over 700g. One light is battery-powered (14.4V/2600mAh - good for approx. 2hrs at 100%) but you can use it while it's plugged in as well. Godox claims the TL60 tube light sports a CRI of 96 and a TLCI of 98. The unit only draws around 18W of power which is impressive.
One of the first things that stands out about the
Godox TL60
tube light is the unconventional form factor. Unlike a mono-light or panel, this light looks like a fluorescent light tube with some end caps, but it's so much more. At one end are an LCD readout and a few buttons, serving as controls for all the light's functions. At the other end is an on-off switch.
Inside the tube itself is the RGB light strip. It shines through the translucent half of the tube that makes up the main body of the light. The other half is opaque, giving the light about 180 degrees of a spill. The translucent section softens the light but doesn't completely obscure the fact that the LED elements are individual. In use, the light offers only a foot or two of throw, with rapid fall off.
The light can be operated off the built-in battery or via a wall adapter. Additionally, it can be controlled directly from the light, via app interface over a wireless connection, via a remote, or via DMX.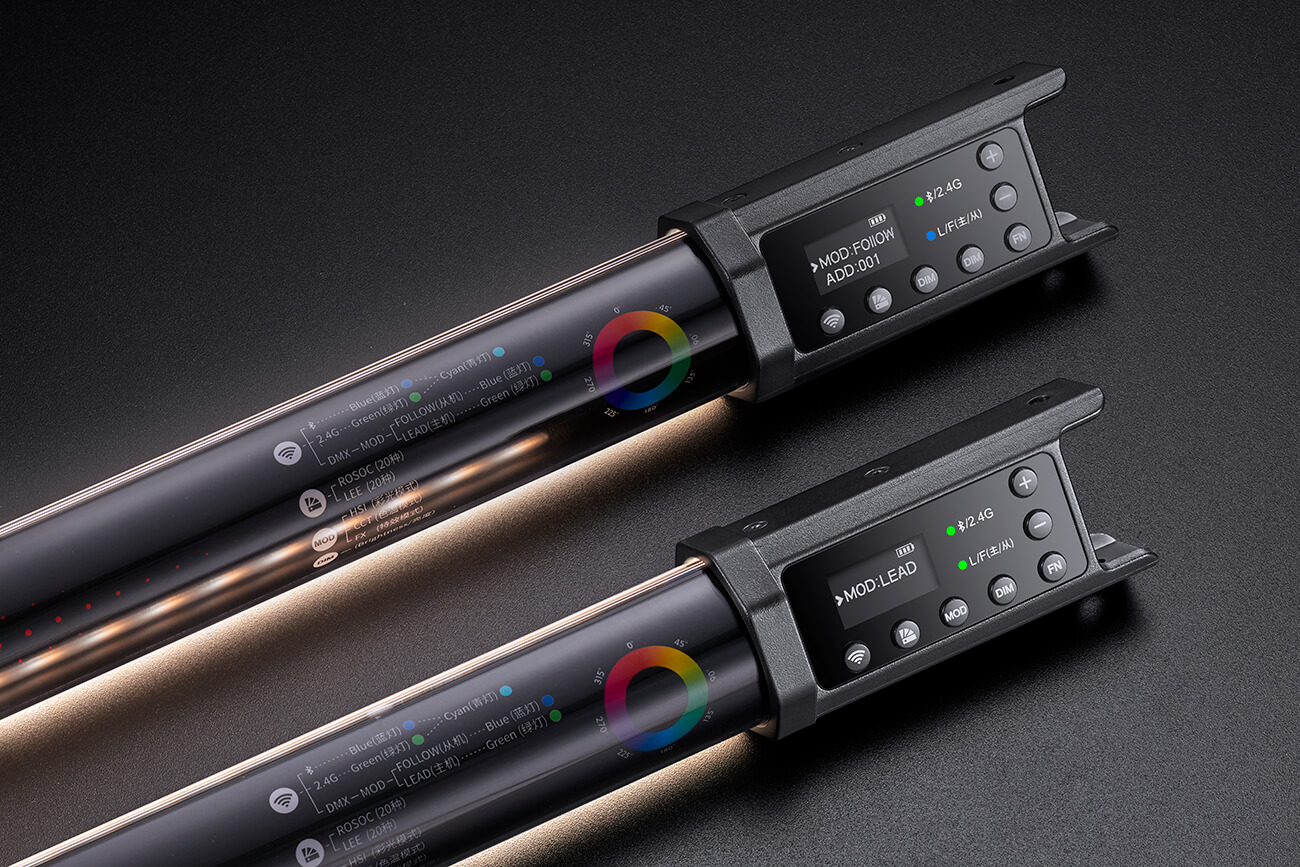 HSI/RGB/FX Modes
In addition to having an HSI Color Mode, the
Godox TL60
allows you to adjust the light color through its RGB Mode or change the color temperature via CCT mode. You can also utilize the built-in 39 preset lighting effects in the FX Mode.
The most basic option of "white" even offers variety, allowing you to adjust the color temperature from 2700K to 6500K. With this, you can warm or cool the light to match ambient or other light sources you're using.
Beyond white, you have the full gamut of RGB. Setting a specific color is much quicker with the app, rather than the button interface, but either method is nice for getting an exact match to your desired color. In the color modes, you still have control of the brightness of the light as well.
A unique option is a choice of selecting Rosco or Lee gel filters by name. They accurately replicate the look of that gel over a light, making it possible to integrate this light right alongside other sources that are already gelled.
The final set of modes will be particularly interesting to video users. The special effects, of which there are 39, range from cycling rainbow spectrums and faulty fluorescent lights to campfires and ambulance light bars. Within each style, there's a range of variations, typically revolving around the speed, frequency, and duration of each effect. Assuming you can get the light positioned in a realistic position, it can create a reasonably convincing imitation of whatever the named effect is.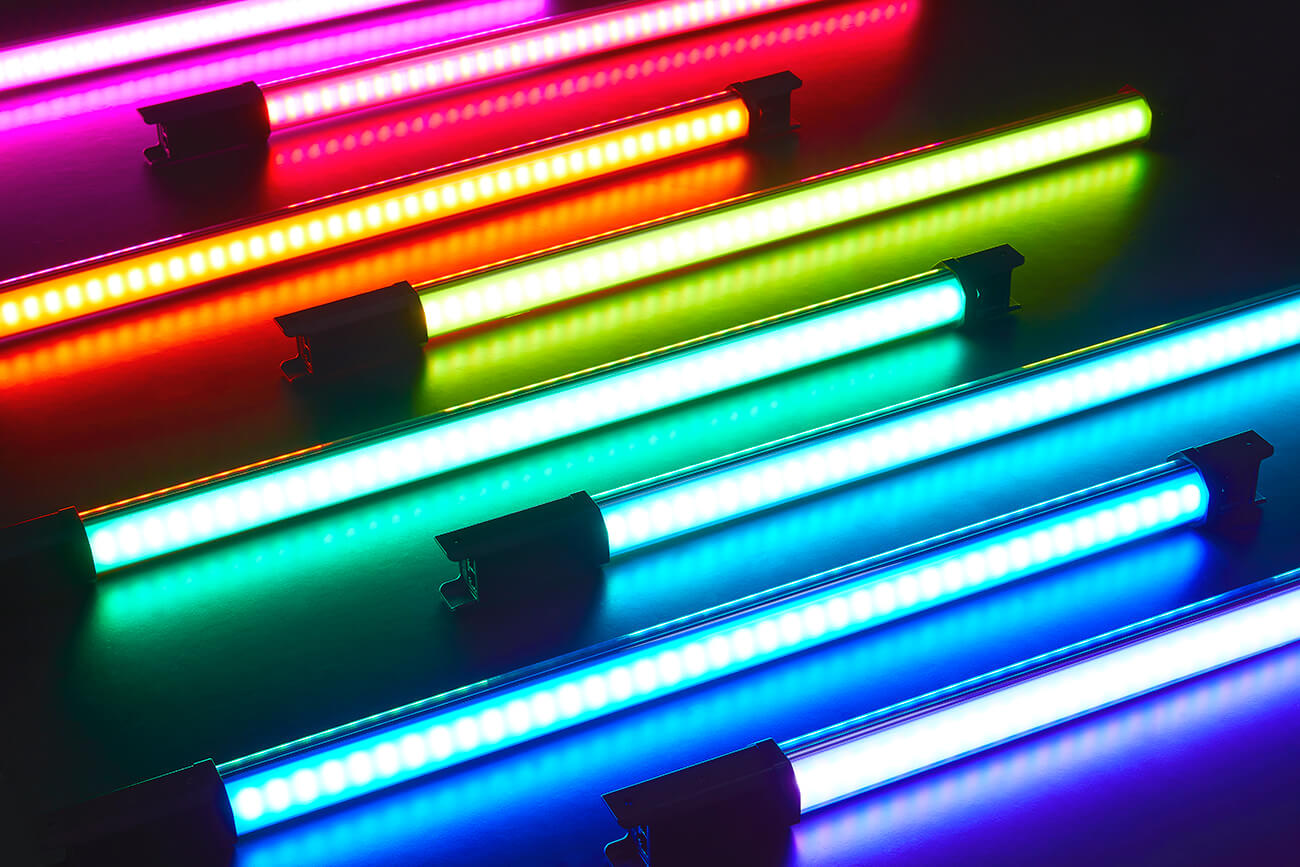 Multi-color
You can select from 5 separate color modes with incredible 98+ TLCI color accuracy.
RGB- Includes 2 additional LED whites.
HSI- Full control for up to 360,000 colors
GEL- 40 Built-in Rosco and Lee filters
CCT- Huge color temperature range from 2700K to 6500K
FX- 39 Built-in effects
Godox App
The Godox Light App is available for both Android and iOS devices. It allows you to control the light's HSI, CCT, and FX functions. There is also a host of Lee and Rosco color filters available, and the color picker allows you to simply point your phone's camera at a color, capture it, and your light will reproduce it instantly.
Dual Powering Solutions
The tube light features both an internal lithium-ion battery as well as the ability to be powered through an external AC power source.
The internal battery is claimed to be able to power the light at 100% output for 2 hours.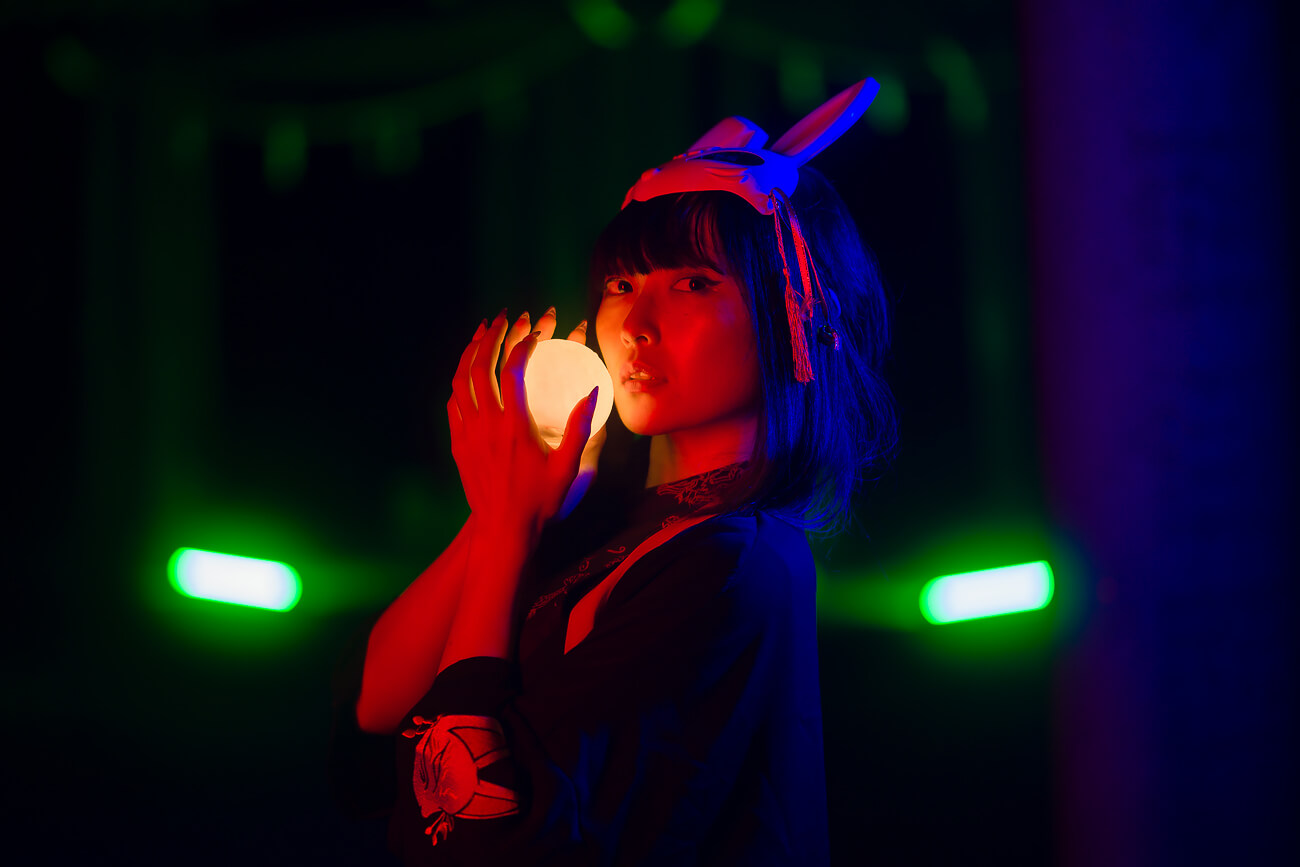 Flexible Mounting Options
The tube system is so flexible you can use 1 light tube, 2, 4, or 50. Connect them end to end, split them for rim lighting, or even make a light bank with the included mounting brackets. The possibilities are endless.
Insane Amount of Control
There are several ways to gain control of the lighting capabilities. From the new optional remote, free app, onboard wireless control, or easily connect to a DMX control board.
Pricing
A single TL60 sells for 237 Euros, the 2-light kit is yours for 475 Euros and the complete 4-light kit is 868 Euros. All kits are available for preorder.
Key features
Internal Lithium Battery: 14.4 V / 2600 mAh lithium battery
Adapter: Output 20V 2.4A
Power: Max 18W
Channels: 32
Groups: 6 (A, B, C, D, E, F)
Color Temperature: approx. 2700K to 6500K
Light Brightness Range: approx. 0% to 100%
RGB Color Gamut: approx. 0 to 360 degrees
100% Brightness (LUX): approx. 1500
CRI: approx. 96
TLCI: approx. 98
Duration (continuous output in 100% full power in 2700K or 6500K): approx. 2 hours
Control Methods: Smartphone APP (for both Android and iOS systems) / 2.4G wireless remote / DMX control
Bluetooth Wireless Control Distance: approx. 30m
2.4G Wireless Control Distance: approx. 50m (with optional RC-R9 remote control)
Operation Temperature: approx. -10 to 40 degrees C
Dimensions: 48 x 750 mm
Weight: 0.73 kg
Verdict
The new
Godox TL60
RGB Tube Light LED Kit changes the game again by offering a state-of-the-art new way to shape and control light with the 30 light tube. You get the entire color spectrum in your hands and multiple ways to create colors, effects, and the awesome new Gel mode to select digital gels from Rosco and Lee Filters.
The only limit a user has with these tube lights is his or her imagination. You have creativity in your hands and dozens of ways to paint the room with colored light. Even though they are a bit of an investment, they are well worth it because they can take your photography to the next level.
User Experience "I'm passionate about night photography, and the Godox TL60 RGB light tubes allow me to play with the lights and colors in a very natural way as I could create my own movie." -Coga Humberto
@cogahumberto