The Godox SZ150R is a zoomable COB RGB light with a variable beam spread between 20° and 65°. It offers CCT mode with white color output from 2800K to 6500K with high CRI and TLCI ratings, RGB mode, and built-in effects. It comes with a reflector, an AC adapter, and a carrying case.
Versatile COB lights in this form factor have become increasingly popular due to their swiss army knife style abilities, which enable them to be used for a variety of lighting scenarios.
While this new light can be used in bicolor mode, far more exciting is the addition of the RGB—considering that the light has a maximum output of 26000 lux at 1 meter. Compared to other RGB lights, the SZ150R is much more powerful allowing users to use modifiers to diffuse the RGB light. All Bowens mount modifiers can be used on the SZ150R.
Reasoning
The concept behind the Godox SZ150R was to make a very flexible, fully featured lighting source that won't empty someone's wallet.
Appearance-wise, the SZ150R looks reasonably similar to the Aputure Light Storm LS300X and the Prolycht Orion 300, albeit, a little smaller.
Lots of LED lights on the market, including the Godox SZ150R are using COB technology. COB stands for "Chip on Board" where multiple LED chips are packaged together as one lighting module. The advantage of COB LEDs being multi-chip packaged is that the light-emitting area of a COB LED can contain many times more light sources in the same area that standard LEDs could occupy. This results in a greatly increased lumen output per square inch.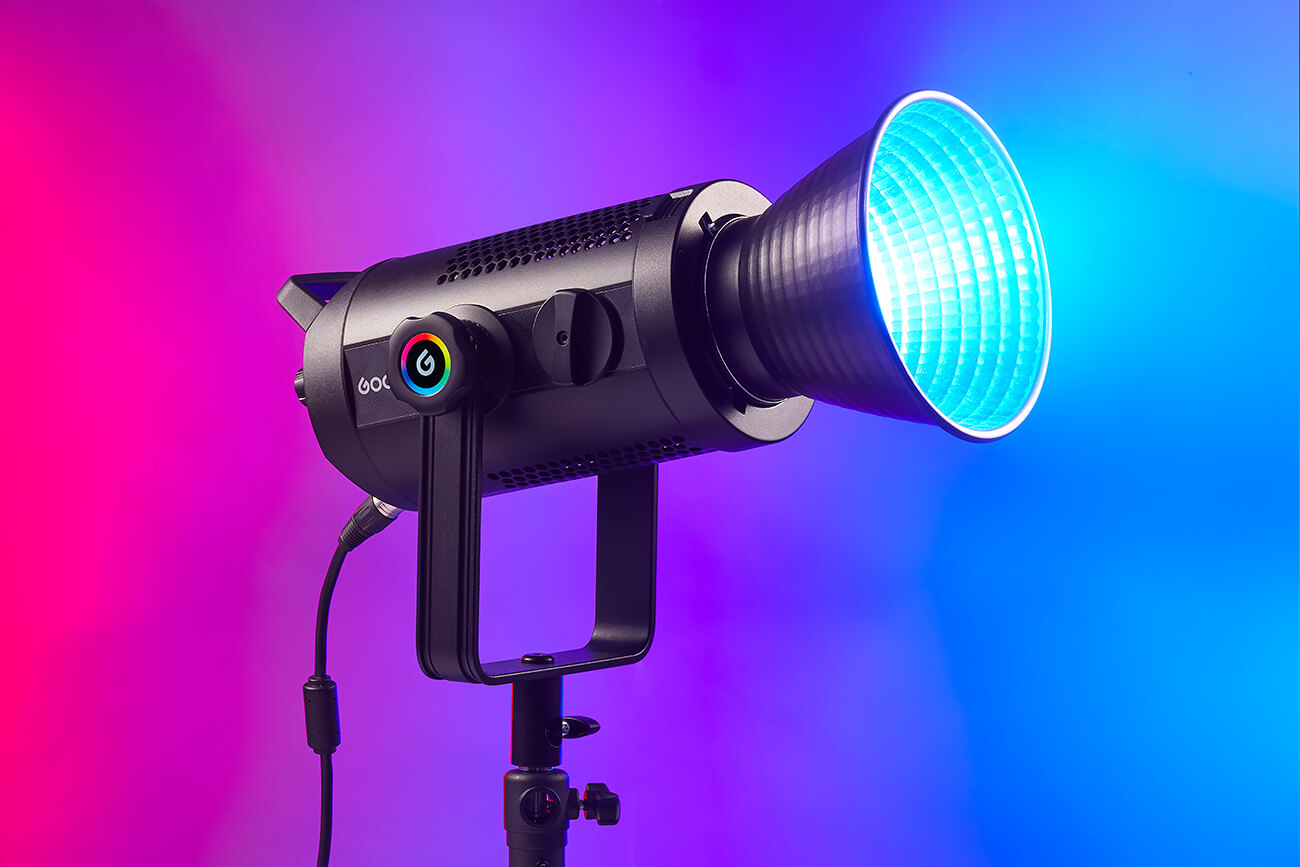 Built Quality
The light is very well built. The new SZ150R is mostly made of metal, especially the parts that are most important, like the yoke and most of the the light's body, aside from the back part and knobs.
The design is straightforward and minimalistic. It has a well-made Bowens mount release lever (sometimes these are cheaply made). The zoom knob feels sturdy, and it changes the light beam angle from 20 degrees to 65 degrees. The power cord is a heavy-duty thick 4 -pin XLR cable (about 2m to the power brick and about 4m to the wall).
The back of the light features a nice color LCD, and while it isn't a touch screen, controlling the different modes is easy. Using the two large pressable knobs and four-mode buttons (menu/FX/HIS/CCT) you can quickly navigate through the different options and easily change between Bi-Color and RGB modes.
Screen
The screen on this light is big enough to show the entire menu at once, so you're not scrolling through the menu looking for an option, and the dials that you adjust the light with work as ways to navigate the menu quickly. Pressing the dials selects the menu settings and it's fast. Typically, on lights, the screens are basic and if there is a menu, it's difficult to navigate. Godox did a good job with this menu, and there is no lag between selecting input and the light responding. This is especially important while scrolling through RGB colors, if you're scrolling quickly and find a color you like, there is no lag between inputs, so the color, intensity, and dimming are easy to choose.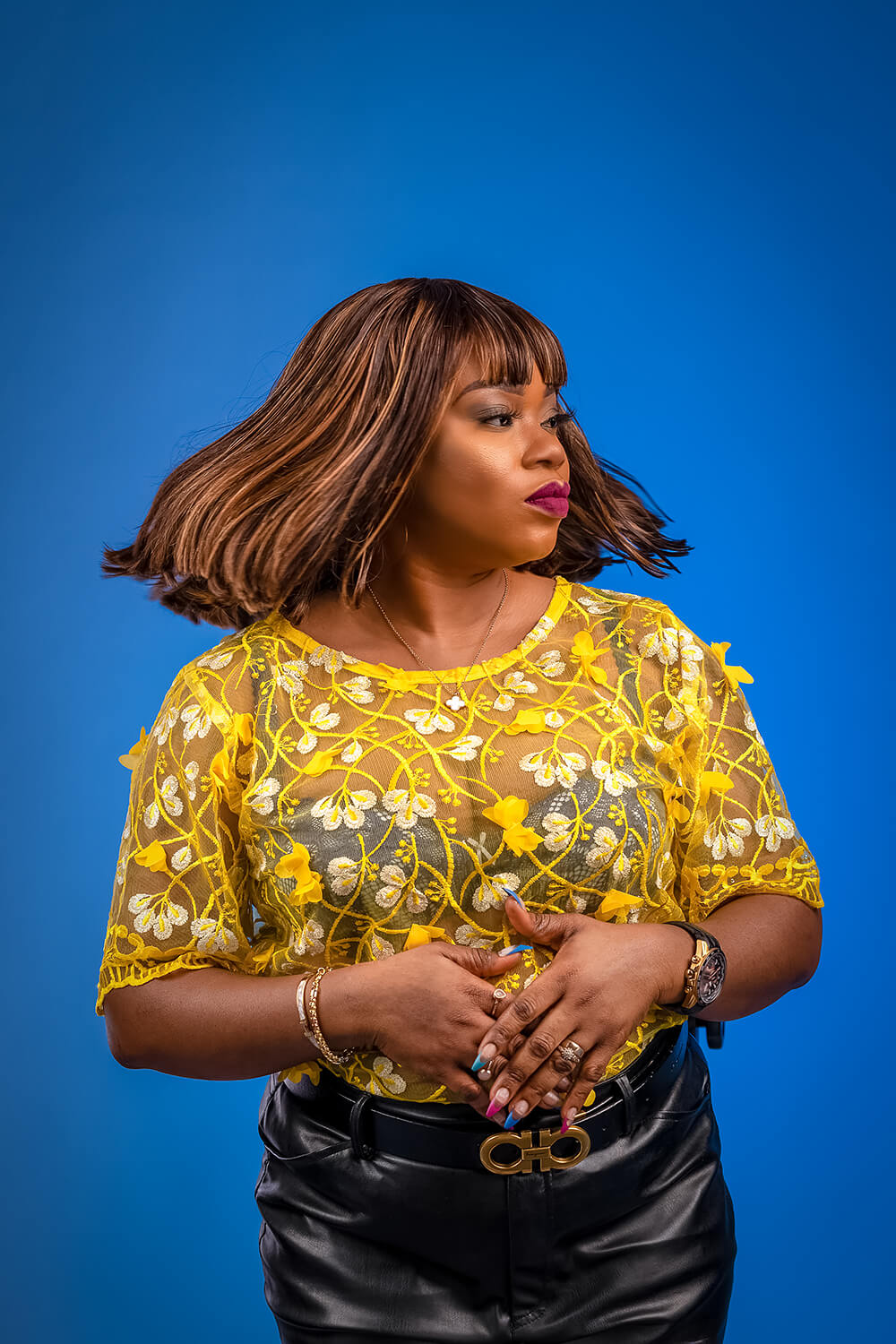 Zooming
By adjusting the zoom knob, you can change its beam angle from 20 to 65 degrees, for a soft spread or stronger focused light. Spend less time changing light fixtures and adjusting the distance, and more time capturing the perfect light for your production.
Coloring
SZ150R HSI mode allows you to adjust the hue, saturation, and intensity, giving you access to 36,000 custom colors. The Green/Magenta means fine-tuning of skin tones and mixing/matching light sources.
CCT Mode offers a wide color temperature of 2800K to 6500K with high CRI/TLCI ratings of 97/96, to meet your ambient light needs with impressive accuracy.
Special Effects
For a wide variety of lighting scenarios, SZ150R features 13 preset tunable cinematic lighting effects such as RGB cycle, Firework, Ambulance.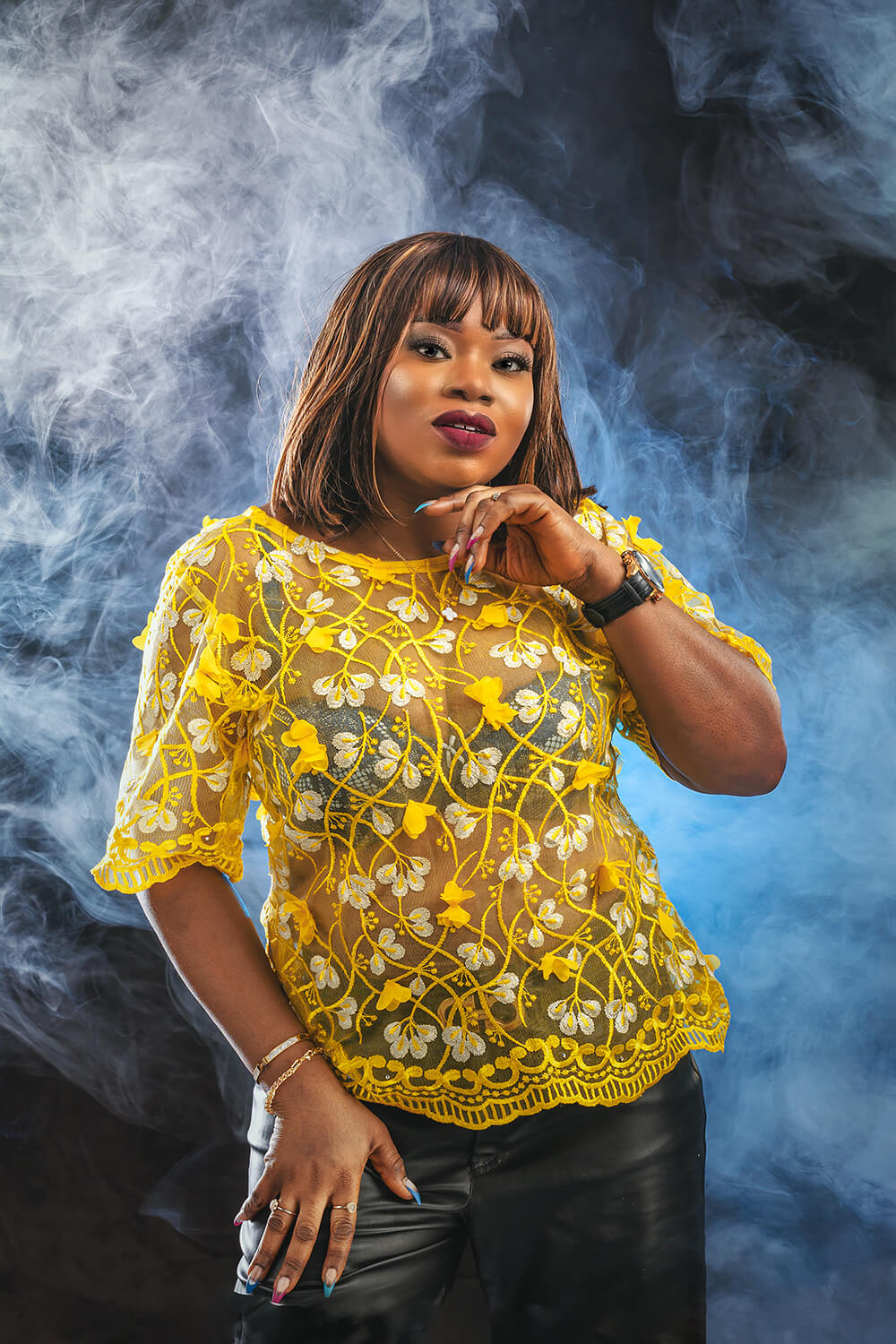 Controls
The light can be controlled via Bluetooth using the Godox Light App. There is a range of parameters that you can adjust using the app. It is straightforward and easy to use, also intuitive, and visually appealing.
The only downside when using the app is that when you make changes they don't happen instantaneously, there is a slight delay.
The light also comes with a remote controller that uses two AAA batteries that are not included.
Color Picker
Another interesting feature is the ability to choose a custom color from a photo. You can shoot a photo and use the color picker in the app to choose the specific color you'd like. Pretty cool if you need to match this light to an ambient color, this can be a great starting point.
Silent
SZ150R silent mode lets you focus more on the content without any hums or noise interference.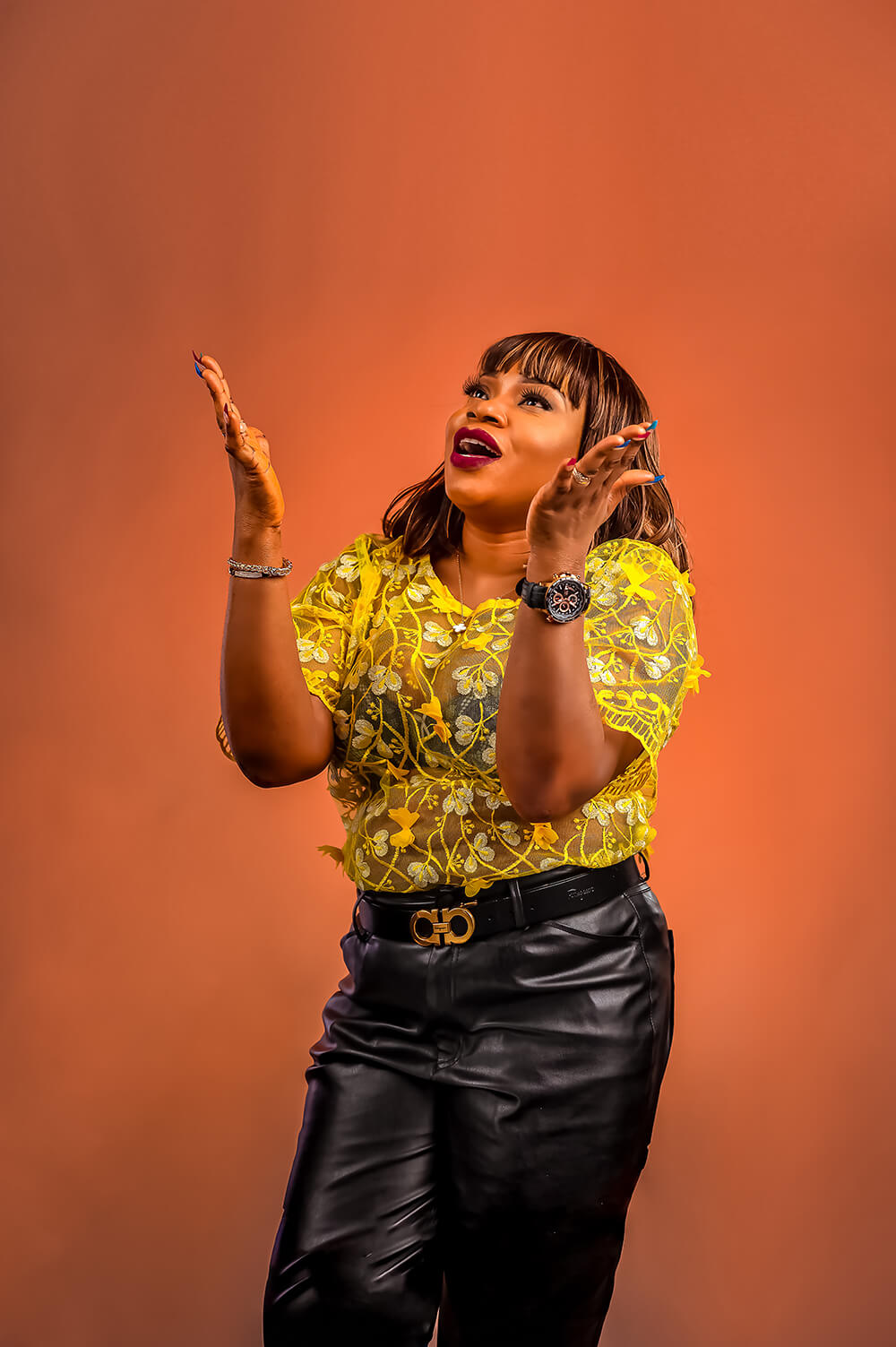 Weight
The Godox SZ150R weighs 2.65kg (5.84 lb). The controller is built-in to the lamp head, there is just a separate AC adapter. That weighs around 575g (1.26 lb).
Mounting
The SZ150R comes with a yoke frame that has enough clearance that you can move the light around and get a fair bit of rotation. Even though the light can physically travel 360 degrees around on the yoke frame, once you plug the power cable in, it will end up hitting the yoke frame at a certain angle. If you put any sort of optical attachment on the light the degree to which you can move it will be reduced.
The SZ150R has a Bowens S-Mount on the front, which is a common mount for most all soft boxes and modifiers out there. If you have other lights, they are probably Bowens-mount lights and it's nice to be able to use all your other modifiers with this light. This is standard for all lights these days, but still worth mentioning.
Upgrading
SZ150R USB Port links your light with a firmware upgrade system. This will keep you updated with the latest lighting technology at anytime, anywhere.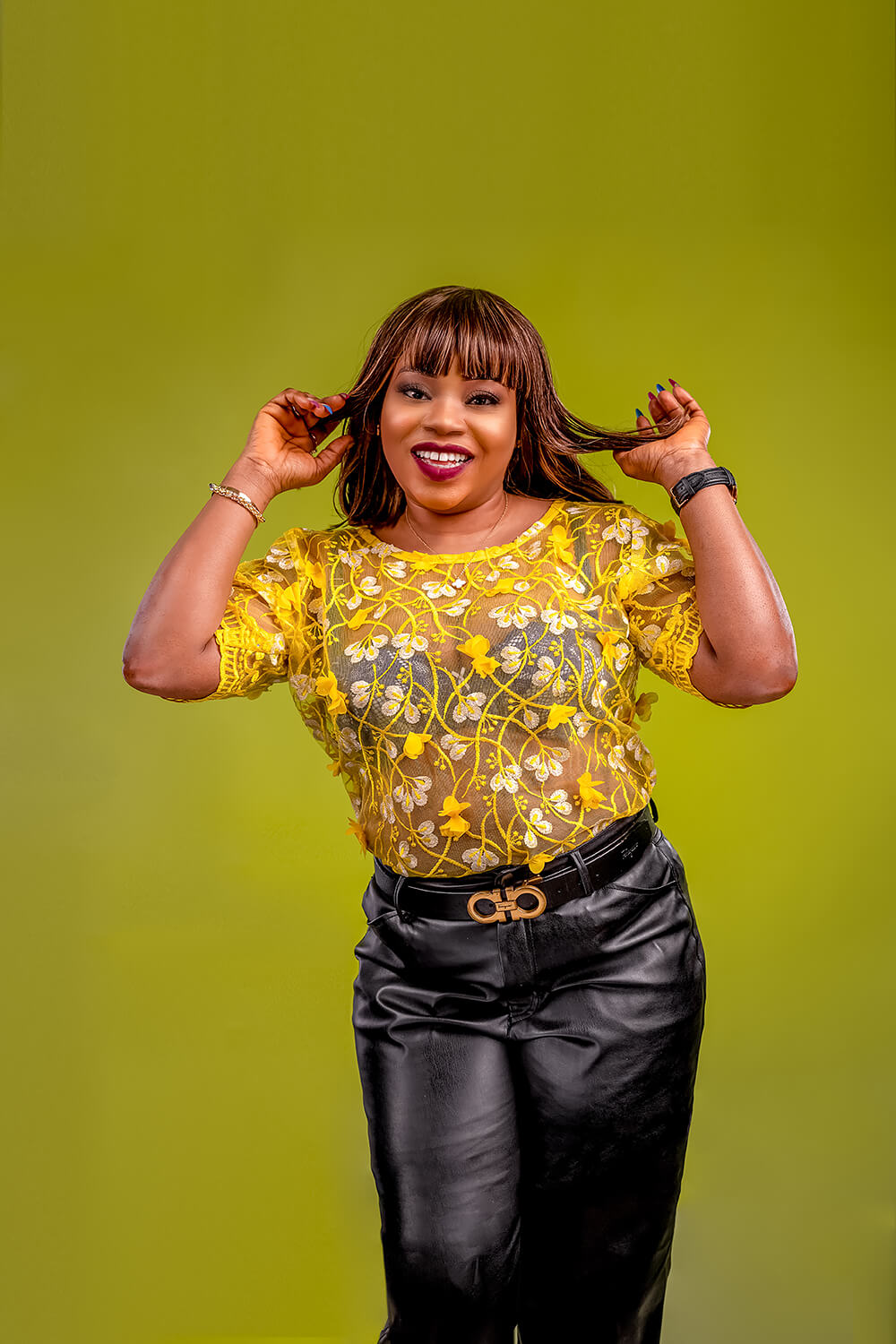 Features
Freely switch LED bicolor mode, colorful light mode, and 37 situational special effects modes
Easy to adjust color temperature, light brightness, hue, and color saturation
Combined control by smartphone APP/2.4G wireless/DMX control
Without noise and interference in silent mode
Offer strong light in light burst mode
Manually zooming from 20° to 65°
With a colored display to clearly show the parameters
The excellent heat dissipation system
Specifications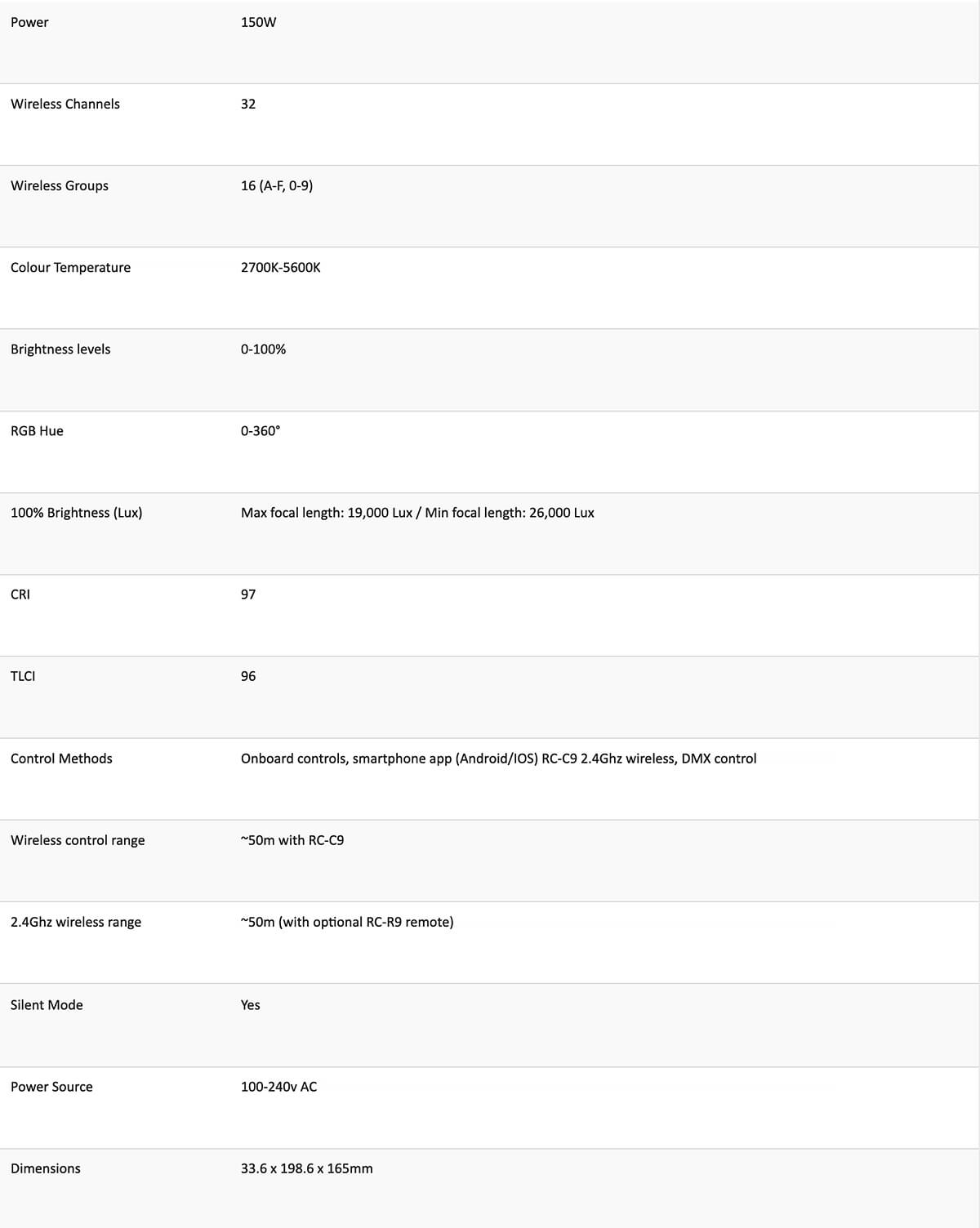 Weight
: 2.65kg (not including reflector and protective cover)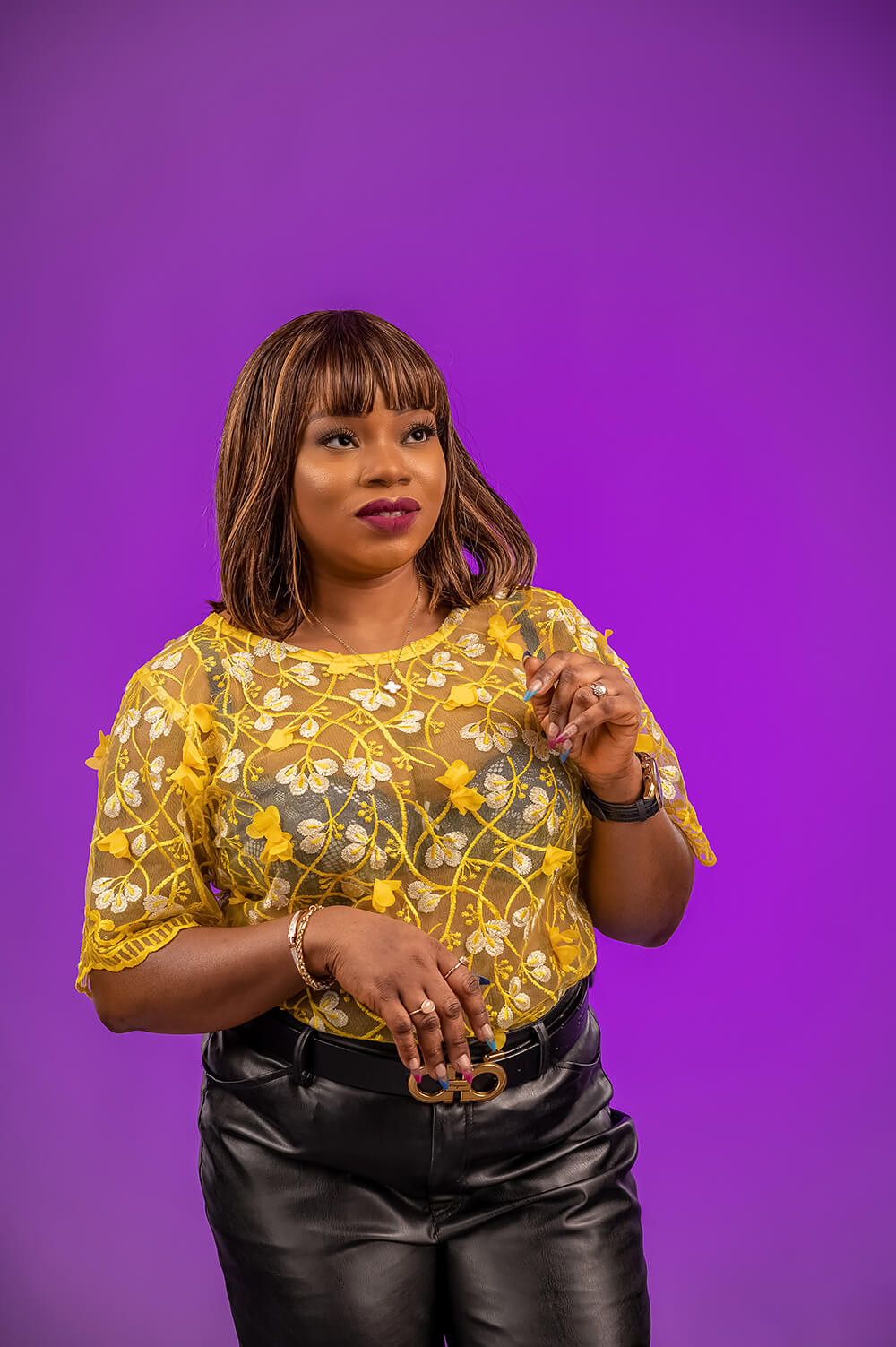 Verdict
The SZ150R is a light we were always hoping to see when the first COBs started coming onto the market years ago. It is well made, compact, relatively quiet, with good output, wide color temperature range, and moreover, it has an RGB option at an affordable price.
In general, it is versatile, has a good amount of output, and it produces a nice quality of light. The interface and operating system are reasonably straightforward and easy to use, as is the app. By utilizing a Bowens Mount you can utilize a large array of lighting modifiers without having to spend a ton of money.
User Experience "It replaces all my colored gel; I can change the light to any color I want. It's a very versatile light that I can use in my Photography work to add color effects to my images and as a continuous Led light for my Video and YouTube recordings. The Bowens S-Type modifier mount enables it to be used with a wide range of different modifiers and accessories."
Oluwaseyi Allen-Taylor
Oluwaseyi Allen-Taylor on Instagram
Oluwaseyi Allen-Taylor's Website