If you ask all Instagrammers what tools they use to edit their photos, only a small percentage of them will mention Photoshop. Of course;
Instagram
offers its own editing tools that are very easy to use. But people rarely use Photoshop when editing images for other purposes, too.
Do you know why?
Photoshop seems overwhelming. For someone who's never used the tool, it seems too advanced. Yes;
Photoshop has a learning curve
. It's not as easy as applying a filter and having your photo ready to go. But it's also very fun to experiment with. You'll be getting better the more you practice. Plus, its use goes way beyond photographs.
The tool holds so much potential that it's silly to keep neglecting it.
Are you interested in the most popular ways of using Adobe Photoshop?
What's Photoshop Used For?
1. It's Necessary for Web Design
Web design is not just about code. It's also about the elements being coded. The finished design you see at perfect website is usually a product of Photoshop. The tool enables you to create a
professional-looking web layout
.
When learning web design, beginners focus on code. They don't pay too much attention to playing the layout, so they experiment with code until they get something decent. Before that decent version comes to life, they usually decide to get help from
expert essay writers
. Services like
AustralianWritings.com
offer affordable programming help.
You can avoid such scenario if you learn how to use Photoshop. Professional web designers usually start the process there. With this tool, you try out different ideas and by the time you get to the code, you already know how to create it.
2. Paint Digital Images with Photoshop
Are you into cartoons, comic books and video games? Photoshop is one of the most popular tools for drawing characters and scenes. Artists no longer use a canvas and a paintbrush to paint. Photoshop is much more convenient, but it also lets you draw more realistically.
Adobe Animate
is the foundational tool for creating lovely animations. But it's even more advanced, so it's better to experiment with Photoshop if you're a beginner.
3. It's Great for Graphic Design
Adobe has other specific tools for graphic designs:
Illustrator
and
InDesign
. Illustrator is perfect for clean graphic illustrations. But for photo-based illustrations, Photoshop wins the battle.
When Photoshop users master the tool for other purposes, such as photo editing, they are fairly competent to experiment with graphic design, too. Photoshop is a perfectly suitable tool for creating posters, business cards, banners, and other designs. It goes far beyond image editing, as its main purpose.
Maybe you're a graphic designer who hasn't tried it. You'll be surprised with its potential. Maybe you're a beginner at graphic design and you still need MyAssignmentHelp to help with your projects. You probably didn't know that the best essay writing services will also use Photoshop to deliver better designs.
4. You Can Edit Video, Too
When you use the photo adjustment layers on videos, you make magic happen. You'll treat the video just as you would treat a photo. So if you were wondering how some lovely YouTubers look flawless on their videos, it's not just the camera. It's the editing.
You can adjust the contrast, fix flaws, and add creative layers to make the video perfect.
5. Bring Old Photos Back to Life
Do you have photographs from your grandparents? Would you like to preserve them for future generations? Photoshop is the tool for that.
The patch tools and healing brush will fix the damage done by the years. You can even add color to make black-and-white photos livelier. Of course you can hire the designers from BestEssay to do this for you. But why do that when you could have fun learning how to use Photoshop and restore family photos at the same time?
6. Create Prints
Do you like cool t-shirt designs? Sometimes you have an idea for the perfect print but you need someone else to deliver it for you? No one can read your mind. If you have a creative project in your head, it's best to learn to use Photoshop and express yourself through it.
You can use Photoshop for t-shirt and poster designs, easily!
7. Make Images More Powerful
Duh!
The main purpose of Photoshop is image editing and transformation. From adding beauty effects to complete artistic transformation, you can do anything as long as you unlock your creativity. There are few main tools you'll learn how to use: layer, custom fonts and text, color and swatches, zoon, select, move, brushes, eraser, fill, crop, blending, and more.
How will you learn all this? Most of it will come to you by intuition. For everything else, Adobe provides pretty cool
tutorials
. You can choose one of the official courses, depending on your needs.
Unlock Your Creativity with Photoshop
It takes time and effort to learn how to use Photoshop. No matter how much you keep learning, there will be new tricks and features to discover. You know what? That's exactly what makes Photoshop so fun. There are no limits to what you can do.
Your photographs, in particular, will become very different... in a good sense of the word.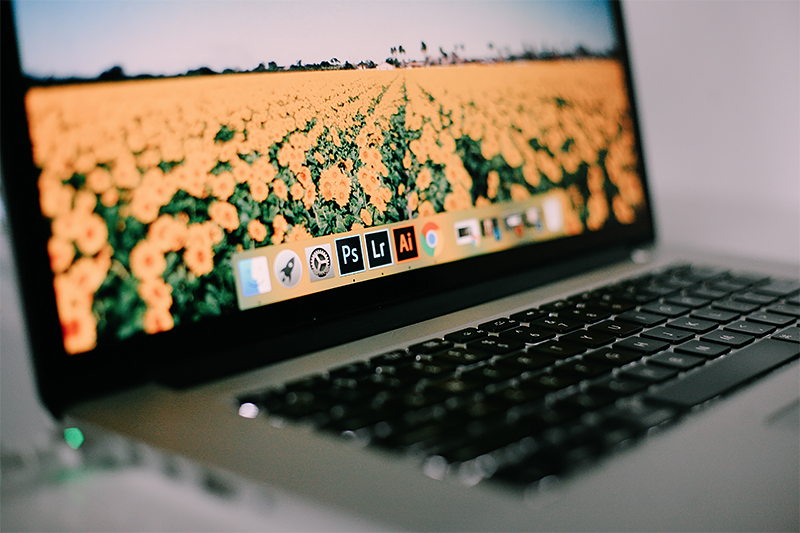 Becky Holton
is a real expert in education at
best essay writing services
. She has been working as a journalist for 7 years. She is a successful blogger who writes about education technologies, tips for improving job skills, and marketing at
BestEssay
and
MyAssignmentHelp
. Follow her on
Twitter
.