The internet is full of pictures. Ranging from nature photography to portraits, you can find whatever you want. There are lots and lots of photographers, some amateurs, some experienced.
If you are a student and you like traveling, maybe you would like
to show the others your perspective
. It is the easiest way to connect with other people. No matter what style you prefer, starting to photograph the environment should be a start.
It can be a hobby, at first. You are also a student and you need time for your essays and assignments. Learning is an important part of the process of creating a better you.
You can combine photography with the student life. It is amazing to have the possibility to shoot your view of the world. But, it is not as easy as it may seem. There are a lot of tricks that could ease your job and would help you create the perfect shots.
Choose Different Angles
No matter how simple or boring your subject might seem, you should choose to photograph it from different angles. Try seeing it from
different perspectives
. You never know what a great photo you may make.
This could take time. Especially if you have a static subject. Climbing up, laying on the ground, moving in different directions. But you need all this time so that a great photo might appear.
Try to notice the unnoticed. Try different orientations like horizontal, vertical or tilted ones. Let the viewers identify with your subject. Create the perspective of a high and imposing character. Or use the right angles to create a god-like perspective.
And if you need help creating a story around the angles used, always consider asking for
assignment writing help
. For sure there are people so good at this that they would not mind helping you.
Invest in Your Gear
This might seem a little far-fetched tip. You are a student, maybe you still do not have a job. You do not have enough money for everything you want to have or buy.
You can start saving money. At first, your phone camera might seem suitable enough for what you want. But investing in an
excellent gear
will make you go further. It is such a difference between cameras.
The best ones are expensive. Don't fall into the trap of enthusiasm. If you managed to save some money, do not immediately buy the lenses or the camera.
Just wait a little bit more and save more money. It is better to wait and buy something of a high quality that will work some years from now on.
Understand the Light
The light is such an
important concept for all photographers
. And it is the factor that is changing the photos a lot. Try and understand it. You will see that you will have to make some sacrifices to get the best light.
This means waking up in the morning to catch the light of sunrise. And it goes the same with the light of sunset. This doesn't mean that in between you cannot take photos. Over time and with exercise, you will gather experience. But, you need a lot of exercises.
Take advantage of the golden hour and catch the blue hour. These are moments from the day when you can use the light to your advantage. Your subject will have warmer tones, if shoot in the golden hour, or will be a little bit grainy if you take photos on blue hour.
Explore the cityscapes or find beautiful subjects and shoot them when the golden hour and blue hour merge. Use the light to your advantage and let it create a magical atmosphere. Show the vibrant colors and let the light wrap your subjects, working on the perfect luminosity.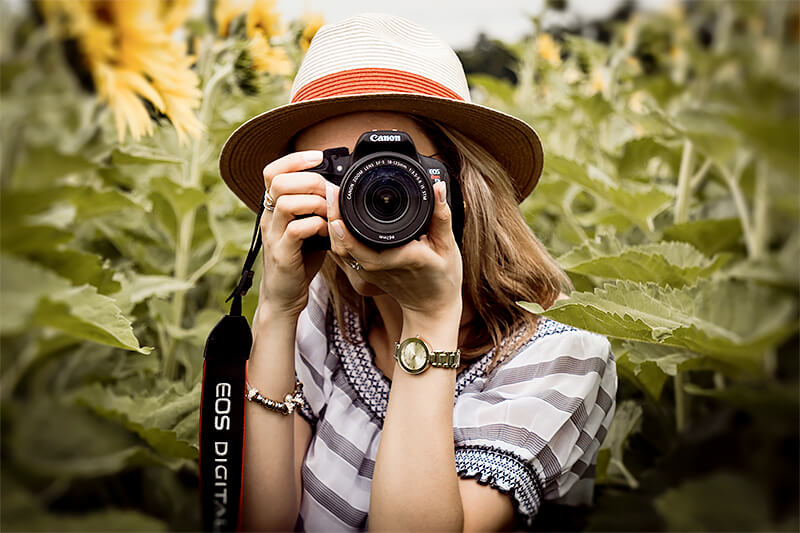 Experience More Genres of Photography
Don't get stuck in just one genre of photography. There are a lot of new perspectives you can try. From travel photography to macro photos or architecture ones, if you choose this path you will show the world your perspective.
You will be able to catch the little beauties in the world. With every photo you will make, you will show also parts of yourself.
Imagine giving people the opportunity to see the hidden beauties of the world. You can start traveling your country and take pictures of amazing landscapes. There are a lot of lenses and filters to use. Start noticing the architectural details, the eyes of people you meet on the street or the details of flies. Tell the story of all the creatures and creations through your photos.
Find Ways to Show the People Your Work
There are lots of great unknown photographers. If you have a great perspective and a will to develop your skills, you should look for ways to show the people your work. Keep in mind that you are in a continuous improvement so critics might appear. But all these will make you better and better.
But do not forget that photographers tell stories with the help of photos. Unknown or unnoticed stories. Stories about people, about landscapes, about the beauties of nature. You show people your perspective on the world.
It would be awesome to find some exhibitions where people can see your photos and understand the story you want to tell.
Do not forget about myassignmentwriting or Best Essays. You can always get help when you get stuck and do not know how to express your vision and feelings. You need to detail your vision so that the photos will be understood easier.
Never Stop Learning
Photography is in a constant change. New equipment appears. New techniques and tips are popping up. You should keep in mind that you must
craft your hobby and passion
as much as possible.
Because the best job one can have is a one where you don't feel that you are working. It is so rewarding when your passion becomes your job. But in the photography field, is not an easy approach.
You must continuously improve your knowledge about this domain. To discover and try new techniques. Keep in mind that from your school subjects you are also learning a lot. Try and extract the best information from anything you encounter.
Finish your studies and do not forget that you can choose from a range of different subjects for your dissertation. Just check
Best Dissertation
and how they can help with your thesis. Learning is a constant process.
Conclusion
There are lots and lots of tips for beginners. As a photographer, your skills will be in a constant crafting process. Do not forget that you must also take care of your assignments and finish them on time.
As a photographer, learn how to find the perfect light and the perfect spot. This comes with time and experience, but you also need exercise to craft it. Read, document and become one of the best photographers that began his career when he was a student.
Becky Holton
is a real expert in education at
myassignmentwriting
. She has been working as a journalist for 7 years. She is a successful blogger who writes about education technologies, tips for improving job skills, and marketing at
UK Best Essays
and
Best Essays
. Follow her on
Twitter
.