In a nutshell
Users can attach up to six MF12 Flash units to the Mounting Ring
- Can be fired off-camera and mounted to an included shoe mount stand
- Compatible with the Godox X1T, X2T, and XPro Transmitters
- Built-in rechargeable battery offers 500 full-powered flashes on one charge!
A new player
There are only a handful of dedicated true Macro flashes on the market. It is mostly either the twin flash, a ring flash, or the classic on/off-camera Speedlight with an additional diffuser.
Godox
just released a unique new Macro flash, that is extremely versatile, modular, and promises to be a true innovation. The brand has been offering a strong range of powerful flashguns with features you would normally only find on much more expensive products in the past.
The new
MF12 Macro Flash
fits the range perfectly and due to its versatility, it can be used in different ways. You can use it on its own, either mounted on the camera or used off-camera, but you can also combine it with up to six more to create an infinitely adjustable macro lighting setup.
Macro Photography
Macro and close-up photography can be endlessly fascinating, but there are important challenges. You need at least three times as much light at macro range as you would with the same camera settings and a subject that is a meter or more away from the camera. Add to this the challenge that sometimes your equipment gets so close to the subject that it shadows it, effectively removing even more light. Many macro photographers find the simplest and best solution is to introduce more light to the subject, but this can get expensive. However, the new MF12 Macro is a power horse that will not break your bank account.
The new MF12 takes care of the task with a diffuser adaptor for close-up use and the ability to use two on a custom-designed adapter ring to provide classic 'clamshell' lighting from either side or up to six spaced evenly for a 'ring light' effect which could also be used for portraits.
Modularity
The MF12 is both a single unit flash and part of a modular system. You can clip on up to six MF12 flash units to the lens adapter which creates a ring of flashes around the lens axis.
Together with a Radio Trigger (like the Godox XPro, X1, X2) one or more MF12 can be fired wirelessly. Being such a compact and small flash, it combines a wide range of features you would not necessarily expect from it.
2.4 GHz Wireless Control
2.4 GHz wireless technology enables long-distance transmission, adding more flexibility to your shooting. Additionally, five groups with 32 channels each help to prevent interference and disturbance when several wireless systems are working close to each other.
Compact Design
The MF12 Macro Flash is optimized for close-up photography due to its compact design and unique ability to be mounted directly to a lens via an optional adapter or placed around the subject with the included flash stand. Also, its size and wireless capabilities make it a good option for general photography as well.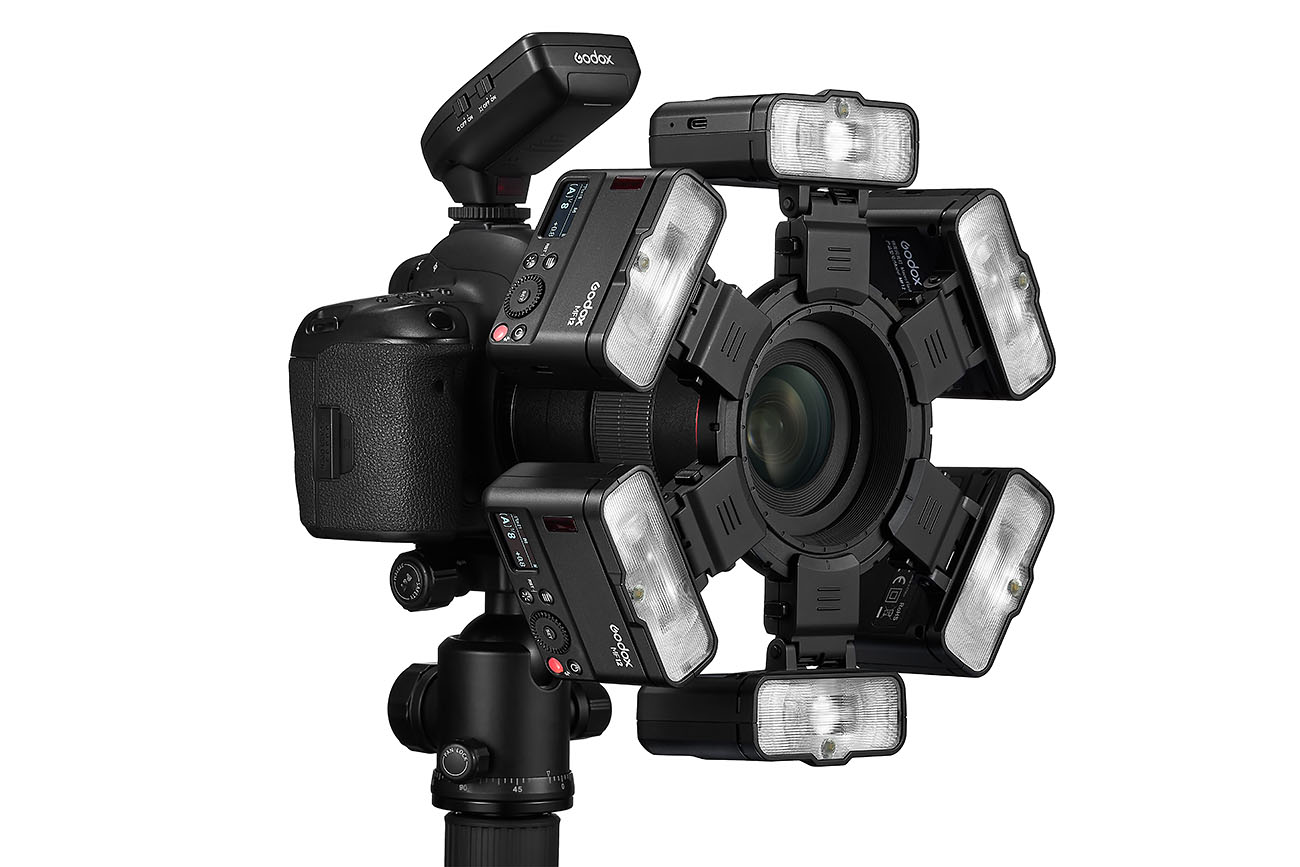 Rechargeable High-Performance Battery
The powerful built-in lithium battery supports approximately 500 full-power flashes with a 0.01 to 1.7 second recycling time. The battery is also easily rechargeable through an included USB Type-C cable.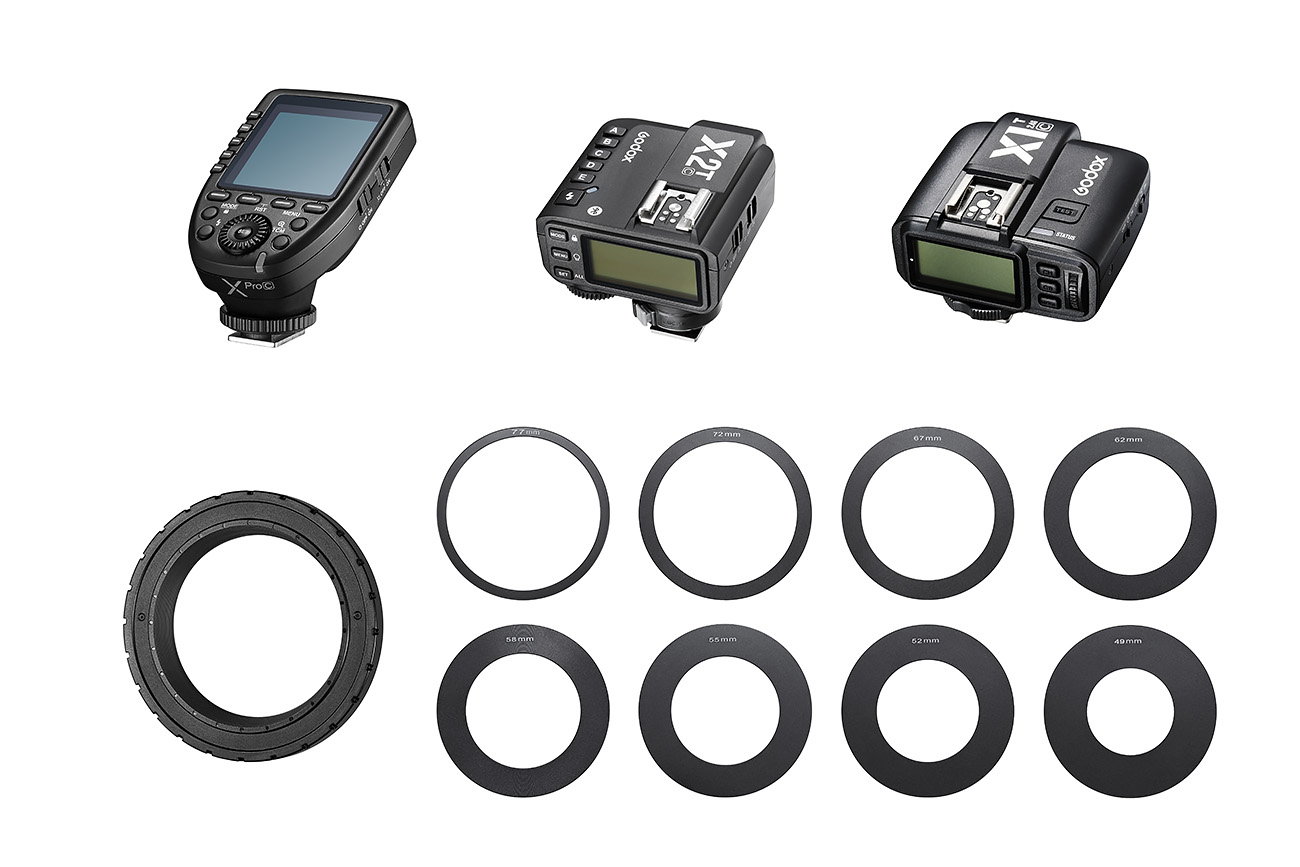 Color Effects and Color Temperature Adjustment Set
Included with the MF12 Macro Flash are the MF-11C Color Effects and MF-11T Color Temperature Adjustment Sets. The Color Effects Set contains an assortment of colored gel filters to expand your creative capabilities. Meanwhile, the Color Temperature Adjustment Set contains an assortment of gel filters to adjust the color temperature of the flash head. This allows you to match the color temperature of the ambient light wherever you are shooting.
The MF12 has a Guide Number of 16, with adjustable power ratios from 1/128 to 1/1 and a recycle time of 0.01-1.7sec.
Off-Camera
The flash comes with a small stand for off-camera use, but it can also be clipped to a separately available lens adaptor in conjunction with other MF12 units. One or more MF12 units can be controlled wirelessly with Godox's own dedicated wireless flash triggers.
Modeling Light
By pressing a simple button, you can turn on the modeling light of the MF12. For widespread use, this is a great support to get an idea of the actual flash lighting in the final photo. It can light up a scene in difficult lighting conditions or even function as a focusing light – especially during night sessions in the field.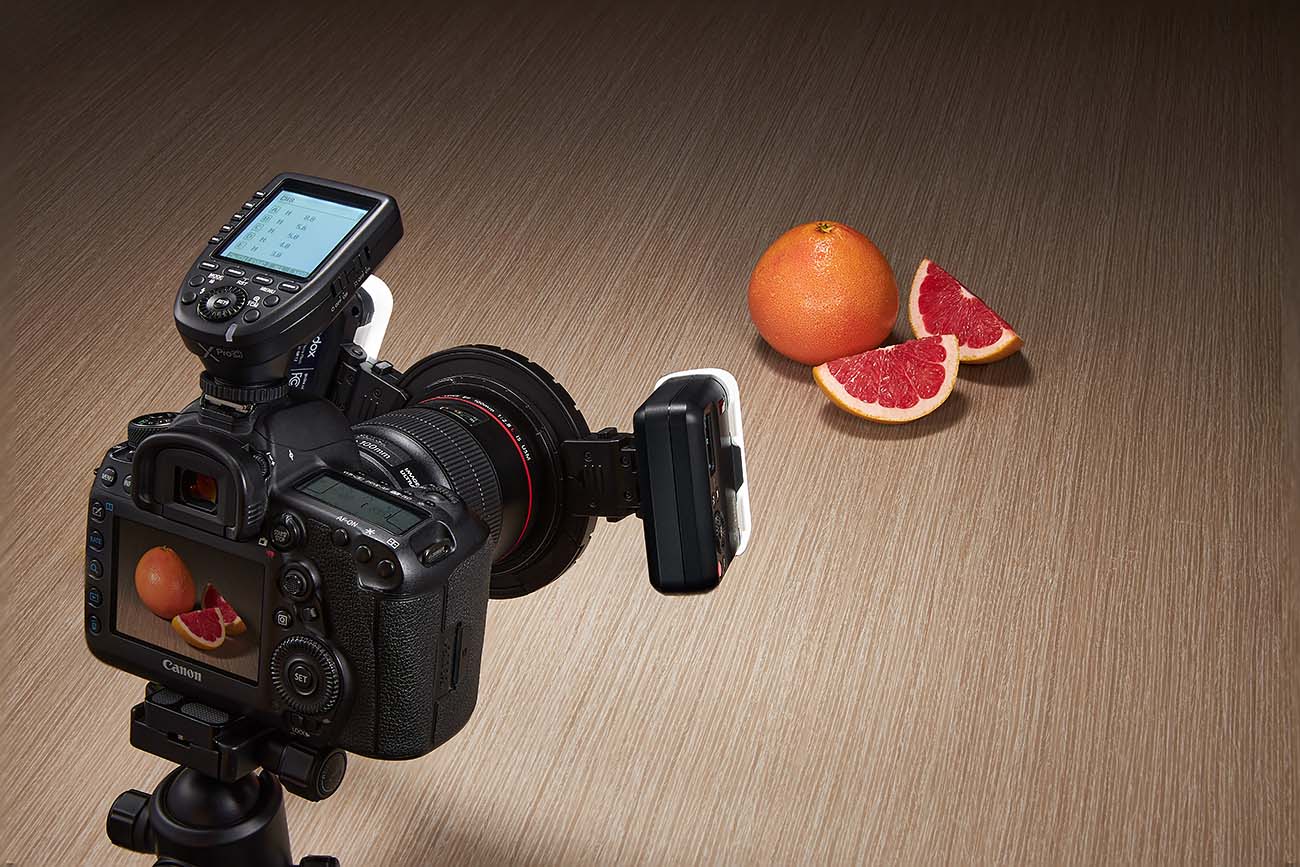 What is in the box
The MF12 comes in a cubic nylon-design carry case with a zipper. It is sturdy and packs all contents in two chambers.
- 1x Diffuser Cap
- 1x Flash stand
- 1x Cold Shoe adapter (with metal thread)
- 1x Positioning Adapter for the Multi Flash Adapter for the Lens filter thread
- 1x Type-C USB Charging cable
- 1x Color Filter Holder
- 1x Color Effects Set MF-11C
- 1x Color temperature Adjustment Set MF-11T
- 1x Soft Case for the 2 Filter Sets
An introductory video can be found
here
.