The original
Peak Design
Everyday Messenger is one of the highest-rated bags for laptops, photography gear, and general-purpose use and has been for many years. The 13-liter (13L) bag that fits 13-inch devices has now been reworked for a V2 model. Compared to the first, the second version has a few notable refinements, making it an attractive option whether you loved the first but find it's starting to show its age or you're completely new to the world of bags and Peak Design´s ecosystem.
In a nutshell
The Everyday Messenger Bag
from Peak Design is a 13L messenger bag designed for photographers that are made of weatherproof 100% recycled 400D poly-coated DWR-impregnated nylon canvas. Additionally, the bag features a 900D nylon waterproof bottom liner.
Ascetics
Overall, the Peak Design Everyday Messenger 13L (V2) has the same look and vibe as the rest of the Peak Design Everyday V2 line. It's clean and minimal.
The bag has two variants. The Ash colorway features leather accents. So, if you avoid animal products, you'll want to opt for the Black colorway that has Hypalon accents. It's nice when companies offer a vegan version of their product—so, good job, Peak Design.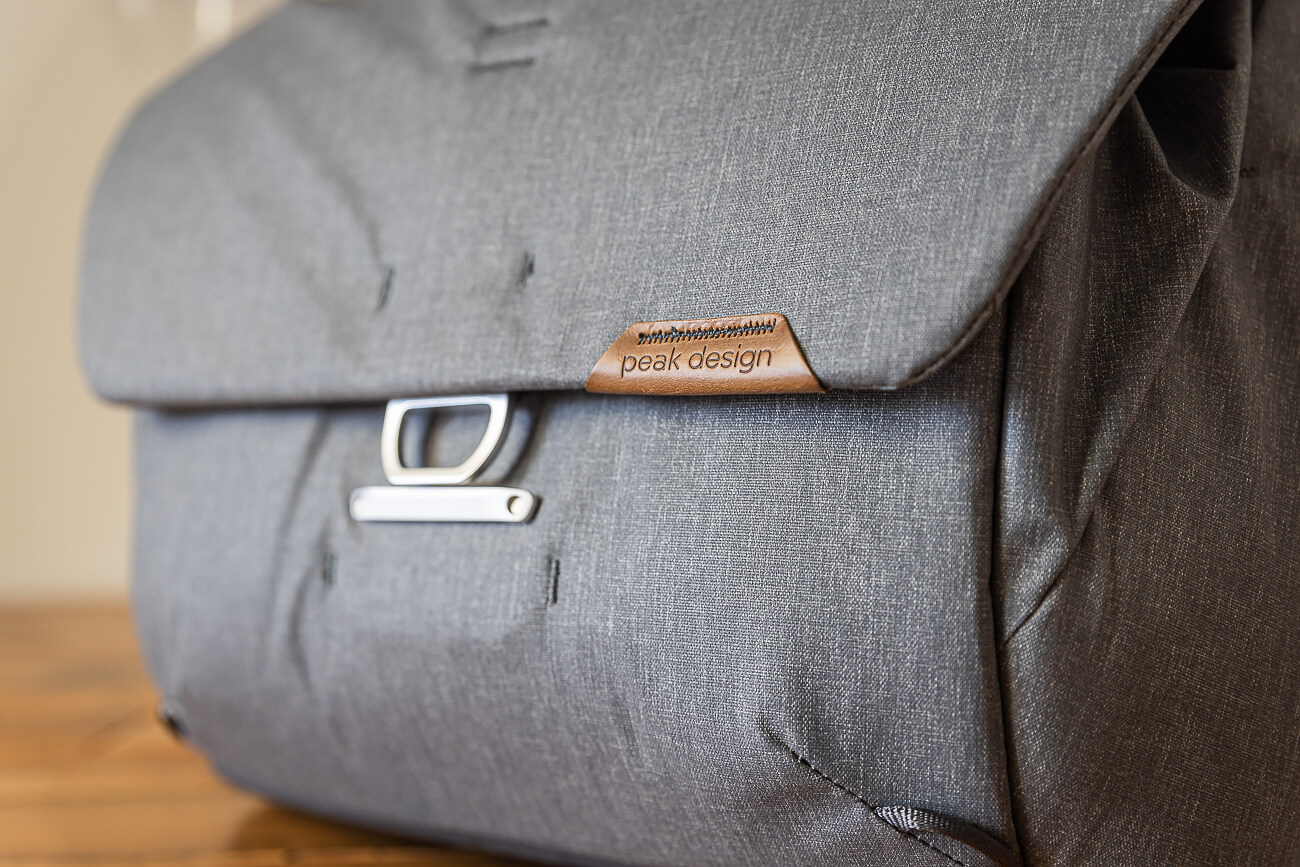 Environmentally friendly
The Everyday Messenger V2 one-ups the original and now sports a 100% recycled and Bluesign certified material, providing not only durability and weatherproofing but also ensuring
sustainability
. Again, this is a tremendous accomplishment on Peak Design's part.
Comfort
The rotating points of the strap are attached to the back of the bag instead of the sides, making it sit easier when you're walking or biking. It also has little hidden pockets for tucking away excess strap length on the main adjustment points.
The shoulder strap's connectors are circular and perfectly rotate, providing more flexibility for strap positioning and adding a dash of modern flair to the outside of the bag.
Zippers
The pack also features UltraZips, which are Peak Design's proprietary zippers made in collaboration with Zoom Zippers. They're smooth and glide well. Not to mention, they're water-resistant to help protect your gear.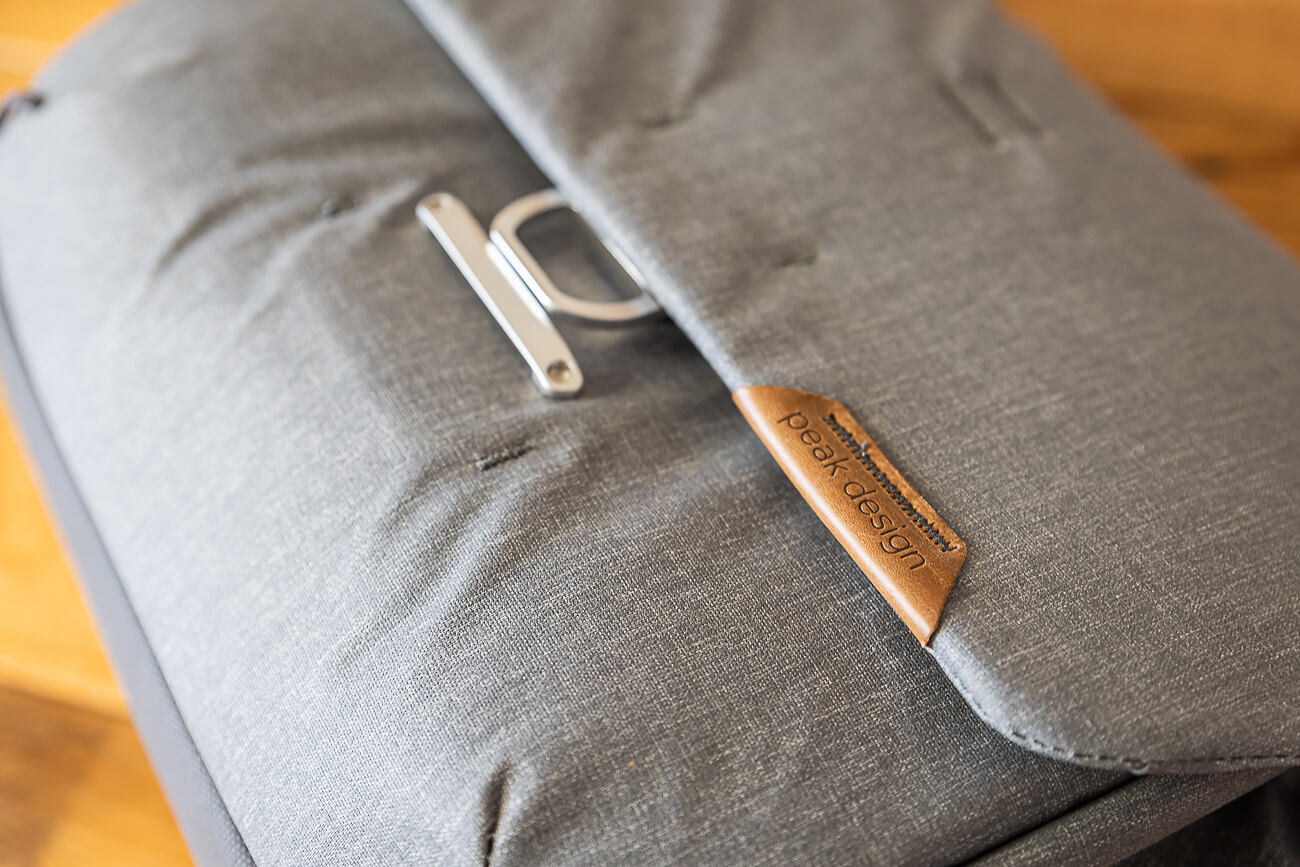 MagLatch
The bag's biggest plus is the MagLatch closure system, which allows near-instant opening and closing of the main bag pocket. This mechanism is strong and secure without losing any speed. It seems like the whole bag has been designed around it.
For traveling
A new feature on the 2021 version of the
Everyday Messenger
is a pass-thru slot that allows you to slide the bag over the handle of your rolling luggage for easy transport while traveling.
Side pockets
On both sides of the bag, you'll find a vertical zippered slash pocket. Both pockets are cramped/small though and big cellphones won´t fit, although most of them will.
One of the side pockets has a built-in tethered key holder. The included Anker Link key tether has a snap-in tab that allows you to remove the keys when you need to use them and then re-attach them again when you're not using them.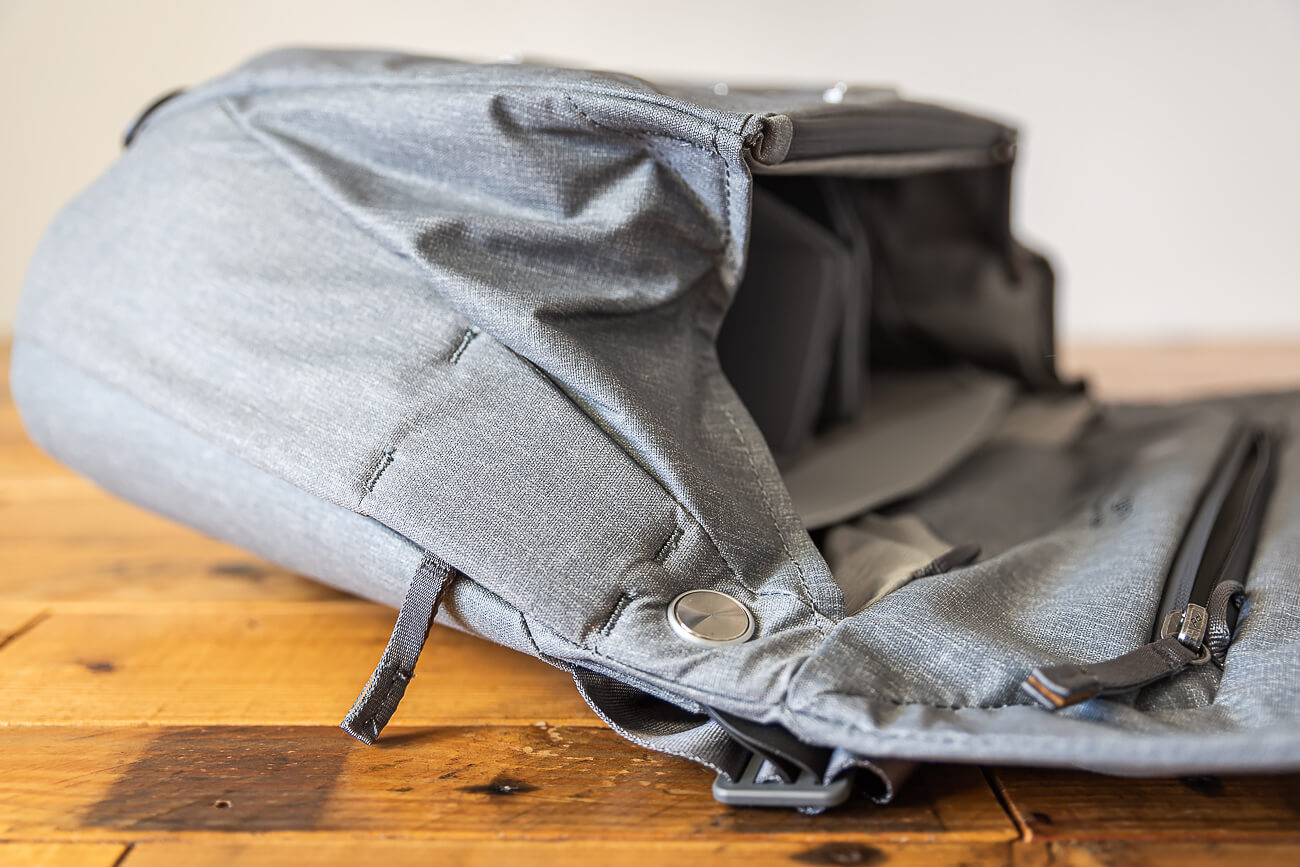 Attachment loop
The bottom corners of the messenger bag have an attachment loop. Using the included Cord Hook external carry straps, you can lash items to the bottom of the bag, like a
tripod.
The adjustable straps can also be used under the main flap of the bag where there are 6 more attachment loops.
Inside pockets
Under the flap, you'll find a narrow-zippered pocket and 4 attachment points that can be used with the Cord Hook external carry straps to hold other gear.
The vertical zippered pocket can be used to hold small items like your phone, sunglasses, pens, etc.
On the front wall of the bag is a zippered pocket that has four small open-topped slots that are perfectly sized for compact flash cards, batteries, or other small items. This is a clear understanding that the bag was designed for visual content creators as a priority group.
Also, there are two side pockets inside the bag that are made of thin stretchy material that can expand easily.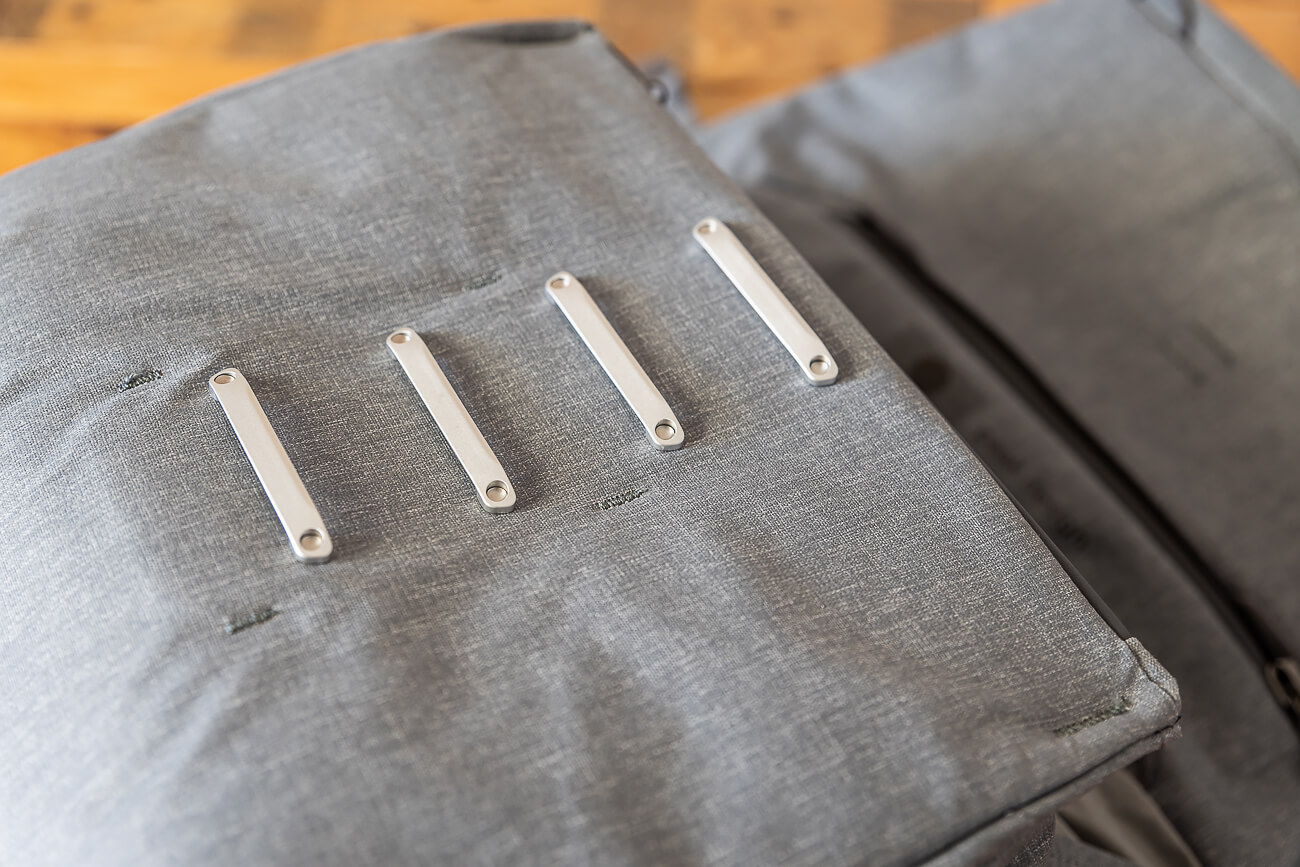 Laptop compartment
Below the zippered pocket in the back wall of the main part of the bag is a large slot/pocket for your laptop or tablet.
The pocket has a divider and can hold up to 13-inch laptop of a max size of 22.9cm x 2.5cm x 33cm (9 x 1 x 13) or a tablet-sized device of 30.6cm x 22.1cm x .7 cm (12 x 8.7 x 0.3) like a 12.9 iPad Pro. The top edge of the pocket has a magnet to hold it closed.
FlexFold dividers
The rest of the main compartment is taken up by the two
FlexFold dividers
. If you're familiar with Peak Design, then we're sure you saw this coming. The FlexFold dividers allow you to customize the bulk of the main compartment. They can unfold to allow the dividers to create two levels of storage for your gear.
You can fold them into numerous different shapes, creating shelves or dividers. You can also take one or both of them out to gain more space. While FlexFold dividers work to organize all kinds of gear, they excel at cradling camera and camera equipment.
Features
Capacity
13l Total size depends on which MagLatch is used
Weight (lb)
2.21 lb (1 kg) Without dividers
Dimensions
14.2 in x 15.5 in x 7.5 in (36.1 x 39.4 x 19.1 cm) Using the top MagLatch
Notable Materials
Recycled Nylon, DWR Coating, Polyester, Polyethylene, Polyurethane, YKK Zippers, Aluminum, Leather, Zoom Zippers, Hypalon®
Laptop Compartment Size
13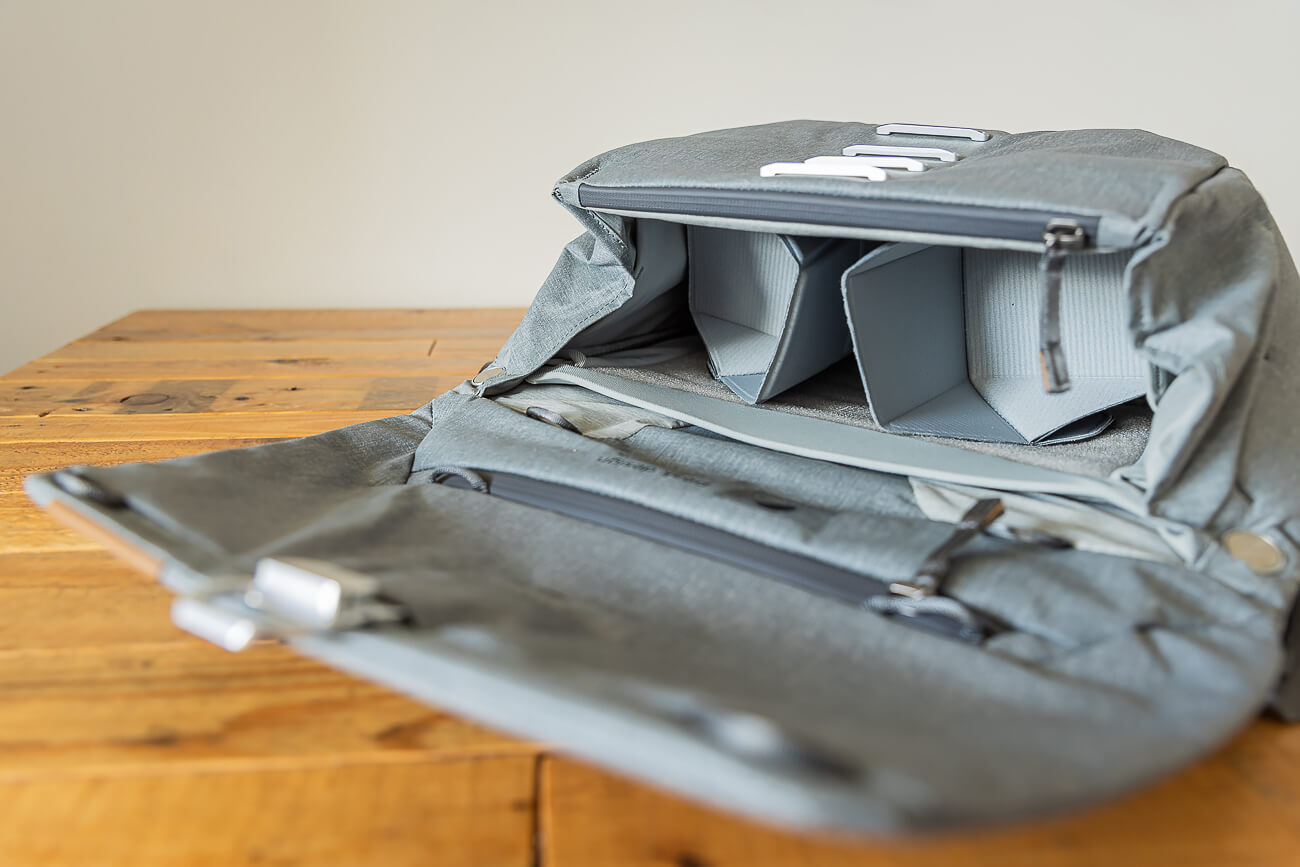 Pros & Cons
For:
Digging the quick-release adjuster and MagLatch.
Clever, somewhat customizable organization.
Very versatile camera bag, laptop bag, everyday bag.
Against:
Some might wish for more or deeper pockets.
Remains a bit bulky even when empty.
Relatively expensive.
Verdict
The Everyday Messenger
The Everyday Messenger 13-inch V2 is not especially cheap or extremely capacious for a shoulder bag, but its finish, its design, and its feeling of durability are unquestionable.
But if you trek to Starbucks more often than you do the Amazons while looking for a good-looking, and ingenious solution that can hold cameras, tech, and everything you need for your
regular day
, the Everyday Messenger just might be the perfect fit.